A teenager was attacked by an armed gang who singled him out because of his clothes as he walked home from a day out in South Shields
The 15-year-old was leaving South Shields with friends when a passing group started making comments about what he was wearing.
Newcastle Crown Court heard when the schoolboy stopped to ask why he was being verbally abused, he was subjected to brutal violence that left him bruised and bleeding.
When the victim's 16-year-old friend stepped in to try and stop the violence, he too was attacked.
At Newcastle Crown Court Colin Dunn, 20, of Westmorland Road, South Shields, was jailed for 10 months for his part in the violence.
The court heard Dunn, who admitted assault and common assault, has previous convictions for 38 offences, including robbery conspiracy and violence and has been assessed as posing a high risk of harm to the public.
He told police he had just a vague recollection of the violence he got involved in but said the victims must have done something to make him behave like that as it "wasn't in his nature" to assault people for no reason.
Vic Laffey, defending, said time behind bars will create an opportunity for Dunn to deal with his alcohol abuse.
Thousands of people came out this evening to watch the annual Camel Parade in South Shields.
Read the full story ›
Advertisement
The World Cup winning rugby captain will receive an honorary fellowship from the University of Sunderland for her services to sport.
Read the full story ›
Police are appealing for information about a burglary that took place at a house while the occupants were at a funeral.
The incident happened between 2.10pm and 3.15pm on Thursday, November 19, in Horsley Hill Road in South Shields. Money and jewellery were taken.
Any witnesses should ring Northumbria Police on 101 quoting reference 638 191115 or Crimestoppers anonymously on 0800 555 111.
A Christmas tree has fallen in the strong winds in South Shields, disrupting traffic trying to navigate the roundabout it had been positioned on. The A1300 is now open.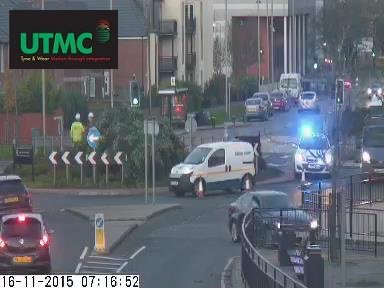 Advertisement
Nicola Peach has made history by becoming the first woman to take the controls of the historic cross-Tyne service.
Read the full story ›
Two men have appeared in court and denied murdering a takeaway boss.
Father-of-two Tipu Sultan was gunned down outside his family run shop Herbs and Spices at Lake Avenue, South Shields.
The killing of the 32-year-old, from Sunderland, happened outside his business at around 10pm on April 7.
Michael McDougall, 47, of Hylton Avenue and Michael Mullen, 24, ofHaworthorne Avenue, both South Shields, are accused of murder.
During a hearing at Newcastle Crown Court both men, who appeared via video link to separate prisons, pleaded not guilty to the charge.
The pair also pleaded not guilty to a joint charge of possession of a firearm with intent to endanger life.
Mullen faces a further charge, of conspiracy to pervert the course of justice, which he denied.
The men will be tried by a jury at a trial on February 23 next year and have been remanded in custody in the meantime.
S Club Party will turn on the Christmas lights this year in South Shields. The group features three of the original members of 90s pop group S Club 7.
Bradley, Jo and Tina will be at the switch on event on Saturday 21 November, at the junction of King Street and Ocean Road.
S Club Party said: "We are so excited to have been invited to switch on the Christmas lights in South Tyneside. And we are looking forward to seeing all our fans and singing a few hits for them."
Police and fire services were called to a large fire on Mitre Place in South Shields.
Emergency services contained the fire. Roads were temporarily closed.
Video filmed by Michael Selby
Load more updates