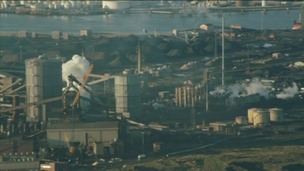 A contractor at the SSI steel works on Teesside has been taken to hospital with leg injuries.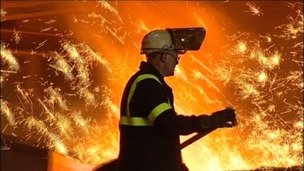 £1,400,000 will be awarded to Redcar's steel plant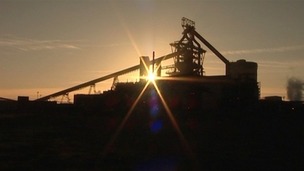 Business Sectretary, Vince Cable, is visiting Teesside steel plant, SSI, to announce a grant supporting 1800 jobs.
Live updates
SSI chief exec to go
The boss of Redcar's steelworks has been explaining his decision to leave.
Phil Dryden steered it through its worst crisis in history but he says he always planned to hand the reins over.
Frances Read has the story.
SSI chief exec to go
Phil Dryden talks about the difficult decision to leave the steelmaking plant on Teesside.
Advertisement
SSI chief exec to go
The man who steered Teesside's blast furnace through the worst crisis in its history will step down at the end of the year.
The announcement that Phil Dryden is leaving his role as SSI's UK Chief Executive came this afternoon, November 20. He will speak to the media tomorrow.
The Lackenby works was mothballed in 2010 with the loss of 1,600 jobs, before being bought by Thai firm SSI. Phil Dryden was contracted to complete its three-year start-up plan.
His role will be assumed by Win Viriyaprapaikit, the Group's CEO.
Paul Warren, Multi Union Chairman.
SSI chief exec to go
The Chief Executive responsibility will be assumed by Win Viriyaprapaikit, SSI Group CEO.
The company says Phil Dryden will take on a new role as a Business Consultant until March 2014.
"Phil has made a tremendous contribution to get us through the business start up phase – with key accomplishments such as the recruitment of a new workforce; the setting up of business processes; the licence to operate permissions; establishing relationships with key stakeholders; the refurbishment of the mothballed assets and the successful restart of the operations.

"This was followed by the refining of post start up business processes and operations, and the successful commissioning of the PCI plant – leading the business towards stabilisation.
"It was always envisaged that the task would take approximately 3 years and therefore Phil's contract had been constructed around that timeframe. Phil has accomplished all of that and it is now possible to reconfigure the Group organisation to allow SSI UK to fit into the portfolio of other operating units within the Group.

"Until the end of his contract, Phil will continue to work with us to make the transition in a seamless, structured way and continue to advise us as a consultant.
"We would like to thank Phil for his leadership and contribution through the last three years and wish him success in his future endeavours."
– Win Viriyaprapaikit
SSI chief exec to go
Phil Dryden will step down as Chief Executive of Teesside steelmaking plant, SSI, with effect from December 31, 2013.
The company says it follows the completion of a three-year business start-up plan.
More to follow.
Steel producer unveils new plant
A multi-million pound investment on Teesside, which is hoped will safeguard the future of the region's steel industry and secure 1,800 jobs has been unveiled.
SSI in Redcar will launch its £38 million facility next week.
Rachel Bullock reports:
Advertisement
Steel producer unveils new plant
Phil Dryden, SSI UK.
Steel producer unveils new plant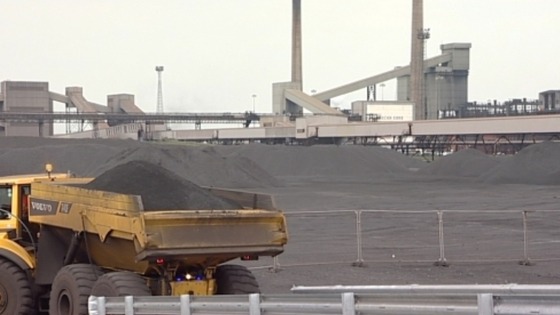 A new £38 million facility hoping to safeguard Teesside's steel industry and secure 1,800 jobs is due to be launched.
The Pulverised Coal Injection plant goes online at SSI in Redcar next week. It will fire powdered coal into the blast furnace, making millions of pounds in savings.
Much of the coal used will be mined in Durham's pits. It is hoped the facility will help the furnace make a profit for the first time since 2011.
Steel producer unveils new plant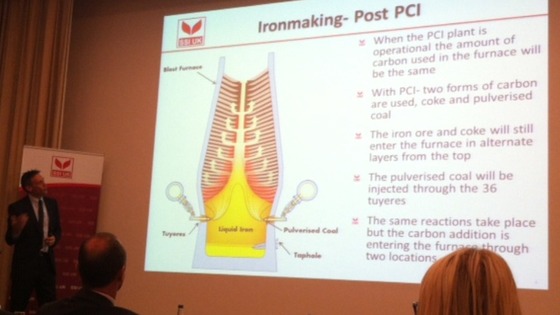 Steel producer unveils new plant
Steel producer, SSI, has revealed plans to safeguard jobs in the long term.
The company has unveiled a £38 million coal injection plant, which bosses hope will slash costs and boost output.
Load more updates
Back to top