Redcar MP Anna Turley has demanded that the Government release the money it has promised for the training of former steelworkers.
Read the full story ›
Steelworkers have gathered in Westminster to call for the Government to introduce immediate measures to prevent further job losses.
Read the full story ›
Advertisement
Workers from steel communities in Teesside will lobby MPs today as part of growing demands for Government action.
Read the full story ›
The steelworkers' union Community is taking its campaign to save the UK steel industry to Parliament this week. On Tuesday, Community's General Secretary, Roy Rickhuss, will give evidence to the House of Commons Business Innovation and Skills Select Committee inquiry into the steel crisis.
On Wednesday, dozens of Community members from steelworks across the UK will travel to Parliament to lobby MPs ahead of an Opposition Day debate on the steel industry.
The UK steel industry has seen around 3,000 job losses in recent weeks, following the closure of SSI in Redcar and proposed redundancies at Tata Steel sites in Scunthorpe and Scotland. The crisis has been caused by the dumping of cheap Chinese steel into the world market, and high energy costs.
A torchlit procession is being held on Teesside on Saturday evening, October 24, as a show of solidarity for the more than 2,000 who lost their jobs after the collapse of SSI UK.
The coke ovens and blast furnace at Redcar were shut down earlier this month, just days after the company entered liquidation due to financial difficulties.
Many more jobs are expected to be affected in the wider supply chain.
A procession to the top of Eston Nab is being held this evening to pay tribute to those who have worked in the steelmaking industry on Teesside over the past 170 years.
Teesside MPs are meeting the official receiver for Redcar's steel works to discuss how the SSI site will be cleared.
They want more detail about plans to wind it down and questions answered about what will happen to the site which used to employ over 2 thousand people
It's believed potential buyers are still contacting local politicians, but there's thought to be very little hope of a deal.
Advertisement
Watch our interview with Anna Turley MP about her work to get more information about how the site will be cleared if a buyer is not found.
Read the full story ›
The MP for Redcar has asked David Cameron, "how much more injustice can the people of Teesside endure?", during a string of questions to the Prime Minister about the struggling steel industry.
Speaking at Prime Minister's Questions, Anna Turley revealed that part of the Government support package, intended for the retraining of SSI workers, will also be used to pay for the final salaries of those who lost their jobs in the last month.
Just asked PM how much more injustice he expects Teessiders to endure after salary is also coming out of 'support' https://t.co/DFkvp3gxPN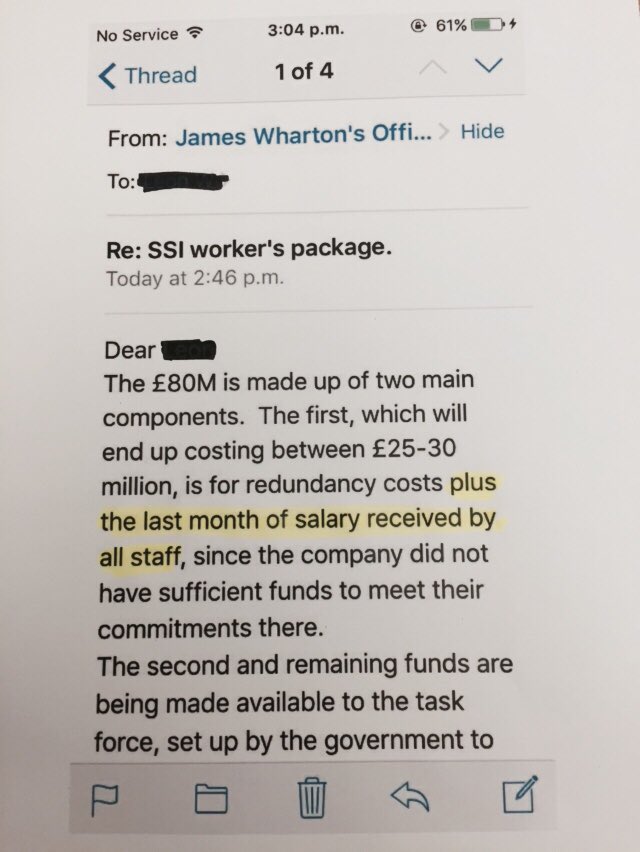 Mr Cameron responded by saying that the Government is doing everything it can to help, including the financial package to help people with retraining and bring new opportunities and industries to the area.
Jeremy Corbyn has accused the Government of having no industrial strategy as redundancies mount in the crisis-stricken steel sector.
Read the full story ›
China should not be made a "scapegoat" for the collapse of the UK's steel industry, Sir Vince Cable has said, accusing the Treasury of holding back with financial assistance that could help relieve pressures.
The Liberal Democrat former business secretary said David Cameron should urge action from Beijing to curb production and noted there was a technical question to be examined over whether China was guilty of illegal "dumping".
But he insisted there had been "endless problems with steel" unrelated to China while he was in government that ministers had some power to alleviate.
There is a technical issue about dumping which is a legal question that you have to prove they are selling below cost.

But the bigger issue is that they have massive excess capacity because they are trying to rebalance their economy.

What we should be saying to the president - and I hope Mr Cameron makes this point - is: if you want to be world economic citizens - and they clearly do as a superpower - you really have to take account of the rest of the world and you've got to restructure your own steel industry and lay off some of your own capacity.

That would take some of the pressure off us. But you can't make the Chinese the scapegoat."
– Sir Vince Cable
Sir Vince added he had endless problems with steel when he was in the government, before this China problem erupted, because energy costs were too high.
He says got the European Commission gave permission to compensate, but he understands The Treasury is sitting on the money.
The commission last year cleared a UK plan to compensate certain energy-intensive industries - including steel - for higher costs resulting from its carbon price floor under state aid rules.
Sir Vince said Chinese investment was welcome - so long as it helped British suppliers.
I would welcome Chinese investment in the nuclear power industry - you have got to have safeguards. But you'd insist that the Chinese develop a supply chain here of British producers.

If they want to invest in these new railways, well great, providing they give an undertaking they'll get a lot of their stuff from the rail factories in Derby and Durham.

That's why you have the industrial strategy we had under the coalition. I don't know what's happened to it since."
– Sir Vince Cable
Load more updates