Alex Cunningham has been re-elected as the Labour MP for Stockton North.
Police are urgently appealing to trace a 24-year-old man who was last seen following a party on Saturday evening (April 25).
Lee Brown had been at a party on the Teesside Princess boat with friends. He was last seen at around 11pm in Stockton.
Lee is described as a 6ft 5" tall, blonde, with blue eyes and of muscular build. He has a panther tattoo on his left arm, a tiger tattoo on his right leg and the name 'Harrison' tattooed across his shoulders.
He was wearing black Timberland boots with a white logo, blue jeans and a blue jumper with tan patches on the shoulder.
His hair could have looked shorter than usual as it had recently been cut.
Advertisement
A fire at KFC at Wellington Square in Stockton, which left onlookers shocked, was extinguished within ten minutes last night. Cleveland Fire Brigade were called to the scene at 10.30pm on April 7.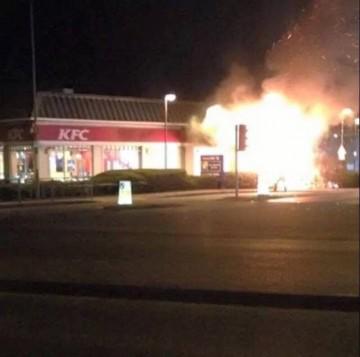 The constituency of Stockton South includes relatively affluent areas like Yarm and Eaglescliffe.
Read the full story ›
Stockton North includes the northern part of the borough along with nearby villages such as Wolviston.
Read the full story ›
A cafe in Stockton-on-Tees has created the "eclipse burger" - for one day only.
Advertisement
Stockton sprinter Richard Kilty has won gold in the Men's 60m final at the European Athletics Indoor Championships in Prague.
The 25-year-old won the final with a time of 6.51s.
Teesside sprinter Richard Kilty is through to the Men's 60m final at the European Athletics Indoor Championships in Prague, Czech Republic.
The 25-year-old, from Stockton, won Heat 3 in the Men's 60m semi-final with a season best time of 6.53s. He was also the fastest qualifier in the semi-finals overall.
Kilty will compete in the final later today.
Police are appealing for information following a fire at Ladbrokes bookmakers on Harrowgate Lane, Stockton.
The fire took place at around 1am on February 24. Damage was caused to the roof and the fire also affected Hardwick Social Club.
Investigations are ongoing to determine whether the fire is to be treated as suspicious or not.
Thousands of Stockton residents, as well one of the Borough's largest employers - Nifco, are being affected by cable thefts.
Read the full story ›
Load more updates