A woman from Stockton has died after being hit by a lorry in County Durham.
The crash happened shortly after 2.30am last Saturday (9th May) on the A690 at West Rainton, near Durham.
A woman from Stockton has died after being struck by a lorry on the A690 at West Rainton, near Durham in the early hours of Saturday morning. It was on the inside lane of the westbound carriageway between West Rainton and the entrance to the Ramside Hall hotel. 36-year-old Kelly Bennett had been walking on the road when she was hit from behind by the Volvo truck.
Witnesses can contact Durham Police by calling 101.
We believe Kelly had left a friend's house in WestRainton and for some unknown reason was walking on the carriageway, in the direction of Durham when she was struck by the lorry. If anyone driving along the A690 at that time remembers seeing a woman on foot in that area, we would ask them to contact us."
– Sgt Jonathan Morgan, Durham Police
Police have said they are concerned for the welfare of a missing teenager from Stockton.
16-year-old Kay Tempest was last seen in the town at around 3pm yesterday, May 7.
She is described as white, 5'5", slim build, blonde hair, and blue eyes.
She was last seen wearing a grey hooded tracksuit top.
Police are concerned for her welfare due to her age. If anyone has any information please call 101.
Advertisement
The Conservative James Wharton has been re-elected as the Conservative MP for despite it being one of Labour's top targets across the country.
The seat was thought to be on a knife-edge after James Wharton won it by just 332 votes at the last election in 2010.
But tonight his majority increased to 5,046.
Result breakdown:
James Wharton (Con) - 24,221 (46.76%, +7.83%)
Louise Baldock (Lab) - 19,175 (37.02%, -1.25%)
Ted Strike (UKIP) - 5,480 (10.58%, +7.65%)
Drew Durning (Lib Dem) - 1,366 (2.64%, -12.48%)
Jacqui Lovell (Green) - 952 (1.84%)
Steve Walmsley (IASI) - 603 (1.16%)
Conservative majority: 5,046 (9.74%)
The crucial Conservative-Labour swing seat of Stockton South is expected to declare shortly.
The Conservative, James Wharton, is defending a wafer-thin majority of just 332 votes.
Advertisement
Alex Cunningham has been re-elected as the Labour MP for Stockton North.
Police are urgently appealing to trace a 24-year-old man who was last seen following a party on Saturday evening (April 25).
Lee Brown had been at a party on the Teesside Princess boat with friends. He was last seen at around 11pm in Stockton.
Lee is described as a 6ft 5" tall, blonde, with blue eyes and of muscular build. He has a panther tattoo on his left arm, a tiger tattoo on his right leg and the name 'Harrison' tattooed across his shoulders.
He was wearing black Timberland boots with a white logo, blue jeans and a blue jumper with tan patches on the shoulder.
His hair could have looked shorter than usual as it had recently been cut.
A fire at KFC at Wellington Square in Stockton, which left onlookers shocked, was extinguished within ten minutes last night. Cleveland Fire Brigade were called to the scene at 10.30pm on April 7.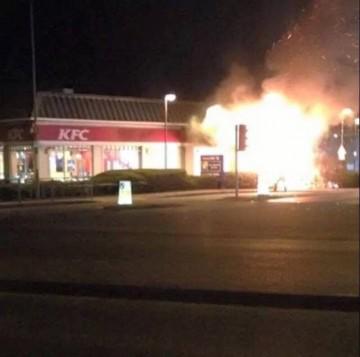 The constituency of Stockton South includes relatively affluent areas like Yarm and Eaglescliffe.
Read the full story ›
Load more updates