The Bishop of Durham says the North East has "responded positively" to the Syrian refugee crisis.
Read the full story ›
The Bishop of Durham has told ITV Tyne Tees that the UK must respond with compassion to the situation in Syria.
As part of his annual Christmas message, the Right Reverend Paul Butler says he's particularly proud of the way people in the North East have reacted to the ongoing crisis.
Advertisement
Only two councils in the North East resettled Syria refugees between October and March according to government figures
Read the full story ›
The headmaster at a boarding school in Durham has questioned why an offer, made eight months ago, to place unaccompanied Syrian refugee children had still not been taken up.
Durham School is among group of independent schools around Britain, to have offered a total of 80 free places for child refugees.
The government says the Syrian Resettlement Programme has promoted the offers to councils - and Durham County Council told us it was actively looking into the logistics needed to considered before any children are placed in the county.
Watch our Education & Social Affairs Correspondent Tom Sheldrick's report:
We speak to some of the first refugees resettled in Newcastle - and find out other councils' plans to accept those fleeing war in Syria.
Read the full story ›
Aid supplies are expected to leave Teesside later today for Syria, two weeks after much of the original consignment was destroyed by fire.
Volunteers and workers from the charity One Ummah were left devastated when food, clothing, blankets and other aid were lost or damaged.
Since then, individuals and businesses have come forward with items to replace those destroyed, while some of the original donations have been salvaged.
The aid is due to be loaded onto a truck this evening to begin its journey to Syrians affected by the country's civil war.
Advertisement
Festive generosity has left a charity on Teesside overwhelmed by support after fire destroyed tonnes of aid bound for Syria.
Since the blaze earlier this week, donations have flooded in from across the country.
Helen Ford reports:
A charity which lost tonnes of donated goods bound for Syria in a fire on Teesside says it has been overwhelmed by new donations, and now expects to send more clothes and blankets to Syria than it had originally hoped.
Tonnes of aid, in 300 bags, was destroyed in the fire in Stockton on Sunday night.
Now, the group collecting the donations, One Ummah, say they expect to set off on their aid convoy before the new year.
Police say the fire, at the Task Industrial Estate, is being treated as arson.
Police have said that they are treating a fire that destroyed a warehouse full of aid destined for Syria as arson.
ITV News Tyne Tees' reporter Nikhita Chulani was on the scene this morning. You'll be able to see a full report in our main programme at 6pm.
More than 300 hundred bags of aid for Syria have been destroyed in what is thought to be an arson attack in Stockton https://t.co/kV6S0h97cz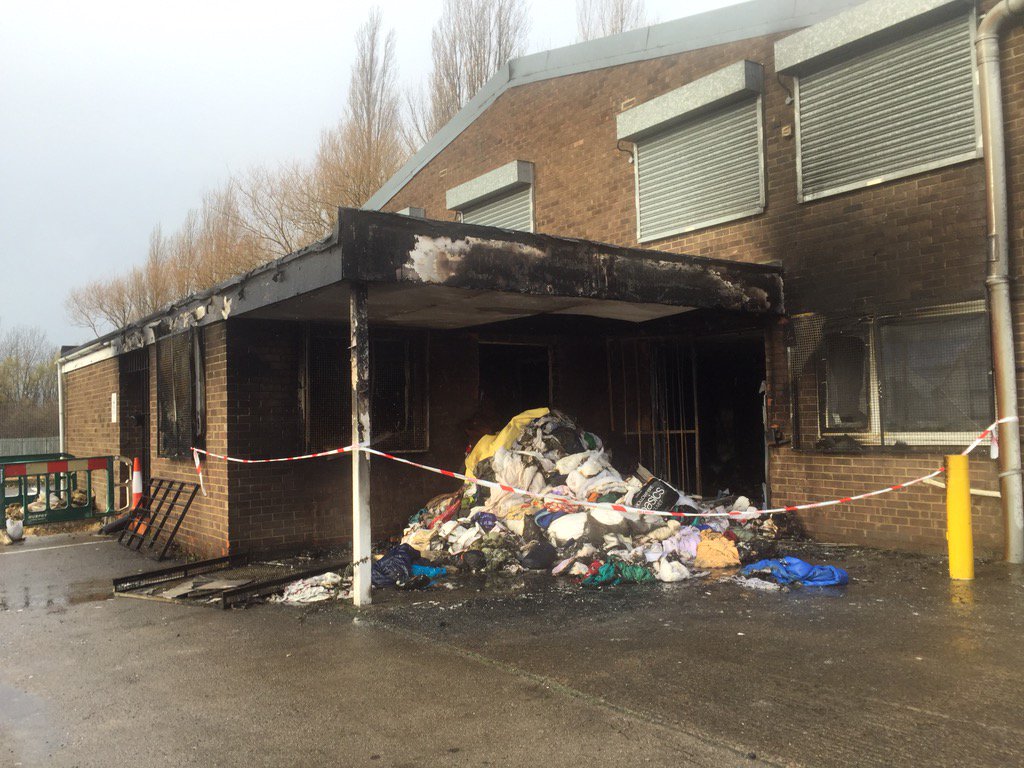 A warehouse full of aid destined for Syria has been destroyed by a fire. The unit, on an industrial estate on Stockton, caught fire last night, Sunday 20th December.
Load more updates