Sunderland City Council has apologised to thousands of drivers who have experienced long delays because of a traffic survey in the city centre.
Surveyors have spent the day stopping vehicles in order to collate information including journey times and peak hours.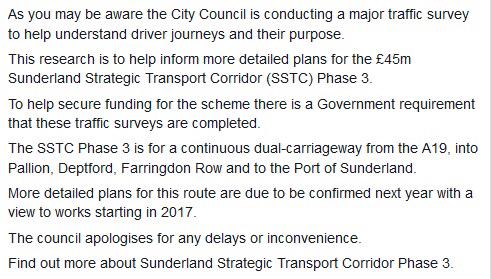 Several frustrated drivers took to social media:
This traffic census in Sunderland is an absolute joke, nout like making half of the town late for work ??? @sunderlandnow
Back home in time for some textbook bureaucratic idiocy. A traffic survey during rush hour. What were they thinking? #Sunderland
Traffic is queuing on the A1 Northbound in the nearside lane south of the Metrocentre due to a broken down vehicle.
#A1 Western Bypass, Northbound traffic now tailing back to the Coal House jct with traffic being escorted past the broken down HGV
Advertisement
There is currently very slow traffic on the A1 southbound, because of a broken down lorry between Hollinside Road (Metro Centre) and A184 (Dunston Interchange).
Traffic in Newcastle is getting worse, according to a survey by a satellite navigation company.
In the worst-congested cities evening rush-hour journeys are taking more than 70% longer than they would in free-flowing traffic, the poll by traffic information company TomTom found.
London was the next-worst city for hold-ups with average journeys taking 37% longer than in free-flowing traffic and 67% in the evening peak.
Overall, average journeys in the cities in 2014 took 29% longer than they would in free-flowing traffic - compared with a figure of 27% longer in 2013.
Part of the A66 trans-pennine road between the North East and Cumbria had been closed overnight due to poor weather conditions.
It was shut between Brough and Bowes until around 1130 this morning as gritting teams worked to clear away snow and ice.
A stretch from Scotch Corner in North Yorkshire heading westbound was also closed for a time.
The A68 Eastbound is closed because of snow and two vehicle accident between B6278 and Pemberton Road.
Six other vehicles are stuck on the road due to the snow.
Advertisement
One lane is blocked and there is slow traffic because of an accident between a car and a lorry on the A1 Southbound between Boroughbridge(J48 A168 / A6055) and Allerton Park (J47 A168 / A59).
The onslip from New Bridge Street to the Central Motorway East, which was closed along with one lane of the CME while emergency services dealt with a collision, has now opened.
The two vehicles involved in the accident are awaiting recovery and there is still congestion in the area while the incident is cleared.
Northumbria Police believe nobody was seriously injured in the collision.
A two vehicle accident on the A167 Northbound between New Bridge Street/Durant Road (A193/B1309) and Sandyford Road (B1307) has caused blockages on two lanes on the motorway, according to police.
Both lanes on the A1 southbound are now following broken down vehicle near Dunston Road.
One lane remains closed northbound, so motorists are advised to use an alternative route if possible.
Load more updates