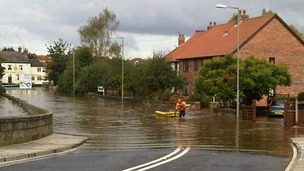 From Northumberland to North Yorkshire, buildings have been evacuated, businesses have closed and people are still clearing up.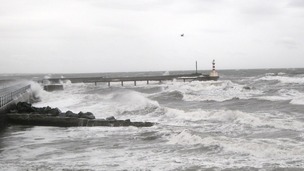 We asked for your pictures of flooding in the North East. From Amble to York, here are some of the best.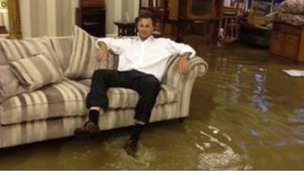 Two furniture stores at Portrack Retail Park, Teesside, have been left in deep flooding after heavy rain.
Live updates
Driver dies in A19 crash
The A19 southbound is closed between the junctions with the A1130 and the A174, due to a serious accident. It is expected to reopen at 9.45am.
Latest travel
Road closed and queueing traffic due to a serious accident on the A1 southbound between A1068 (Alnwick) and A192.
The road was closed at 11:30 this morning following an accident on the entry slip road from the A697.
Traffic travelling south on the A697 is being turned around at Heighley Gate.
Advertisement
Latest travel
The A19 southbound is closed - queueing traffic due to an overturned car between the A1046 Haverton Hill Road (Portrack Interchange) and the A1130 Levick Crescent.
The car was travelling on the northbound carriageway when it flipped over onto the southbound carriageway.
The road is expected to remain closed for several hours. Police have extended the closure back to the Portrack Interchange.
Diversion is via the A66.
The A1 (Western Bypass) is closed in both directions - slow traffic due to an accident between the B6317 (Swalwell Turn Off) and the A694 / A69 (Blaydon / Consett Turn Off).
The road is expected to be closed for some time.
Diversion: Southbound via solid square signs, Northbound using local routes.
Delays of 15 minutes - two lanes closed and slow traffic due to shed load and accident involving a lorry on the A1(M) in both directions between junction 65 A194(M) / A1 / A1231 / B1288 Birtley and junction 64 A195 (Washington).
Traffic congestion is easing in the UK, with a 38% decline recorded in Tyne and Wear in 2012, according to a survey.
UK drivers spent an average of 29 hours stuck in jams last year, with only Belgian, Dutch, German and French motorists faring worse, the Inrix survey showed.
However, with economic times still tough, UK congestion in 2012 was 19% down on the figure for 2011 and also well down in Europe.
Congestion in Tyne and Wear fell 38% last year to an average of 24 hours spent stuck in jams.
The survey also showed that congestion had eased in the first part of 2013, with hours wasted in traffic in the UK falling 11% in January-March this year compared with the same period last year.
"There has always been strong correlation between the state of the economy and the level of traffic congestion on our roads.

"It tells us if people are employed and driving to work, going out to eat or doing some shopping, as well as whether or not businesses are shipping products."
– Bryan Mistele, Inrix chief executive
Advertisement
Sunderland v Everton football match at The Stadium of Light - kick off at 3pm.
A warning to expect extra traffic on North Bridge Street, Southwick Road, Keir Hardy Way, Newcastle Road, Roker Avenue and Dame Dorothy Street until 6pm.
Latest travel
One lane blocked on the A19 northbound on the exit slip road due to a broken down car at the A66.
Latest travel
A6088 Southbound is partially blocked following a accident at Carter Bar (A68). A lorry has hit a tree 2 miles south of the Scottish Border. Only cars can pass.
Latest travel
Very slow traffic and hazardous driving conditions due to ice on A688 in both directions between A167 (Spennymoor) and A689 / B6287 (Bishop Auckland).
Load more updates
Back to top