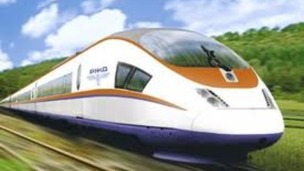 £32bn high speed rail link between London and Yorkshire has been revealed.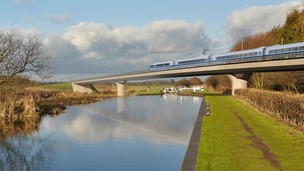 At a cost of £33 billion, this train line is neither cheap nor very popular with those living along its route.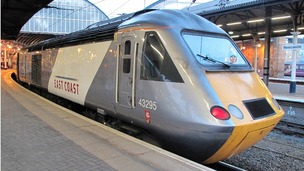 Concerns over the re-privatisation of the the East Coast Main Line after the Government cancelled competition to run West Coast line.
Live updates
East Coast mainline protest
Campaigners and rail unions have handed over a petition, signed by more than 23,000, calling for the main East Coast rail line to remain in public hands.
The route, which connects the North East with London and Edinburgh, has been in the public sector since 2009.
Joint protests were held in Newcastle earlier and the capital against plans to re-privatise East Coast.
East Coast mainline protest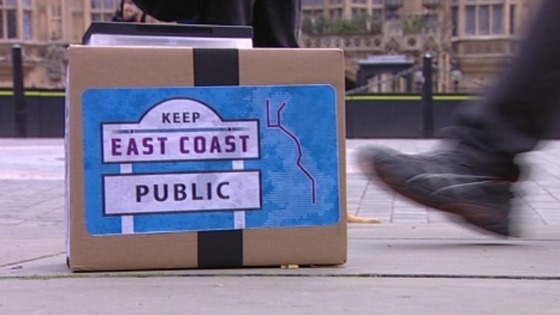 More than 23,000 people have signed a petition, demanding the East Coast mainline is kept in public hands.
The service, which runs from London to Edinburgh, is currently run by Directly Operated Railways, but the government wants to sell the franchise to private bidders.
Campaigners for the public ownership of the East Coast Mainline are staging a protest at Newcastle Central Station.
Earlier, campaigners handed the petition to the Department of Transport.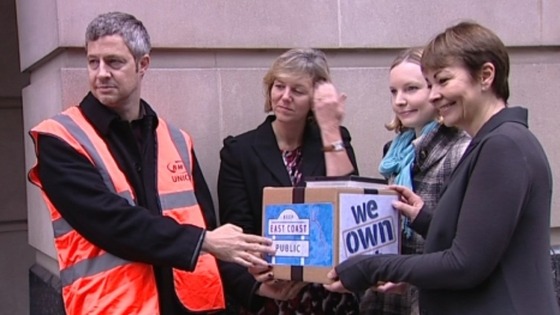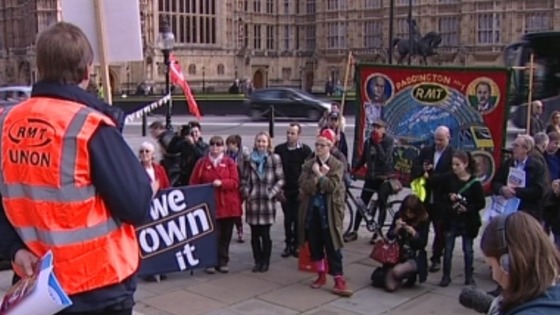 Advertisement
Newcastle-based transport group Go-Ahead hailed an "exceptional" year on the buses as its services took another step on the road to profits of £100 million.
The company said record passenger levels helped bus profits improve 11% to £78.2 million in the year to June 29.
While revenues have risen, the rail arm has been affected by assumptions set out in franchise bids that no longer reflect economic conditions.
"The UK railway system is in good health and makes a net contribution to the Government. Franchising works for both the customer and the taxpayer."
– David Brown, Chief Executive of Go-Ahead

This has meant payments to the Government increased by £85.9 million, while its rail profits fell by £15.7 million to £24.3 million.

Chief executive David Brown said the bus division had traded"exceptionally well" as it looks to meet a target set last year to grow bus profits to £100 million by 2015.
"Increasing our profits ensures that we can continue to invest in the business and improve service quality for our passengers."
– David Brown, Chief Executive of Go-Ahead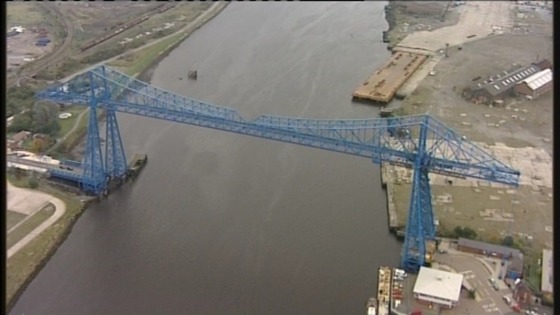 Work has started to repaint Middlesbrough's Transporter Bridge. The renovation is being funded by a Heritage Lottery grant of £2.6 million. The bridge remains open for now, but next week it will close for 40 days while further improvements are carried out.
Tyne and Wear Metro closures
The biggest Tyne and Wear Metro line closure for more than 30 years starts 3rd August. The stretch running up to the airport will be closed for a month as part of a multi-million pound modernisation project.
Tyne and Wear Metro closures
A stretch of the Tyne and Wear Metro route, which carried 30,000 passengers a day, is to close for nearly a month for refurbishment work - the longest closure in its history.
Stations between Haymarket, Newcastle Airport and Four Lane Ends will be closed for 27 days from Sunday 4th August.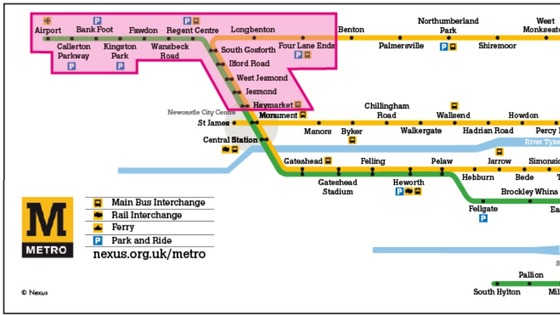 Fifty buses will be laid on instead, but it does mean journeys will take longer and the timetable will change, even for stations not affected by the refurbishment.
*For full details of how the closures affect you, see the Nexus website. *
Advertisement
Tyne and Wear Metro closures
The Major Line Closure will see six kilometres of track replaced between Jesmond and South Gosforth, a section of line that has 30,000 passenger journeys each day, 450 train movements and a service every three minutes.
"Closing a Metro line for 27 days is a difficult decision but it is vital so that we can replace a key section of track in as short a time as possible. It will mean we can deliver a high quality Metro service for the next 50 years. I am sorry for any inconvenience caused by the work."**

**
– Director General of Nexus, Bernard Garner
Tyne and Wear Metro closures
The bus service 900 will run between Haymarket and Four Lane Ends and service 901 will run between Haymarket and Airport calling at all Metro stations on the route. Local bus routes will not be accepting Metro tickets so passengers need to use the replacement bus services that are being provided.
There will be extra trains between Four Lane Ends and St James via Whitley Bay to provide people living in North Tyneside with an alternative route to Newcastle city centre. Trains will also run to/from Longbenton during peak service.
Tyne and Wear Metro closures
560 tonnes of new rail, 7,000 new sleepers and 20,000 tonnes of new track ballast is being stored ready for the modernisation work, which will see the Metro's longest line closure for more than 30 years.
Tyne and Wear Metro closures
It will be the longest Metro line closure for more than 30 years, the Tyne and wear Metro service will be *closed in places for a multi-million pound modernisation. *
This will mean that the line between Haymarket, Airport and Four Lane Ends will be closed for 27 days from 4th - 30th August.**
Load more updates
Back to top