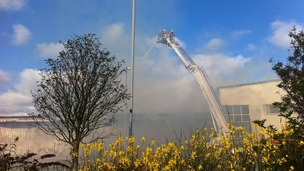 Tyne and Wear Fire Service have been tackling a blaze at a warehouse on North Tyneside.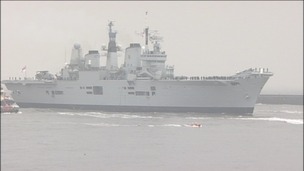 The Royal Navy's former flagship, the Ark Royal, which was built on Tyneside, is to be scrapped by a firm in Turkey, the MoD has announced.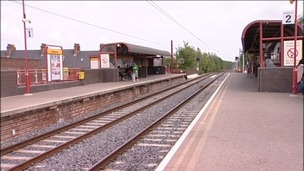 The Tyne and Wear Metro will be closed between Wallsend and Tynemouth for three weeks.
Live updates
Robber handed over note threatening to shoot
Police have released a picture of a note handed to staff at a building society during a robbery, threatening to shoot.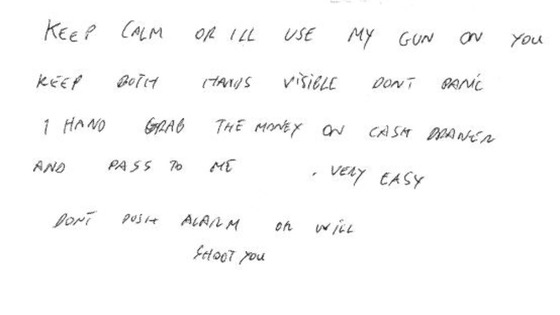 It says: "Keep calm or I'll use my gun on you. Keep both arms visible. Don't panic. 1 hand grab the money on cash drawer and pass to me. Very easy. Don't push alarm or will shoot you."
The man left the Nationwide in Wallsend with some cash. Police said it caused great distress to staff although no one was injured.
Advertisement
Police investigate garage fire
Police are investigating after a fire at a garage in Wallsend. 25 homes had to be evacuated following the blaze at AJ Garage in Brentwood Grove.
25 homes evacuated after Wallsend fire
25 homes were evacuated in Wallsend after a fire at AJ Garage, in Brentwood Grove. Fire crews asked people on nearby Cedar Avenue to leave their homes as a precaution at 12.30am. They were allowed to return after two hours. The cause of the fire is unknown.
Police re-appeal for witnesses after Wallsend rape
Police investigating a rape in Wallsend are continuing to appeal for witnesses - one week after the attack happened.
A 27-year-old woman was walking home alone near Archer Street in Wallsend after a night out with friends when she was attacked between 2.30am and 3am on Friday 15 March 15.
"We are continuing to make enquiries in the local area and we are still asking anyone who was in or around Archer Street in the early hours of Friday morning last week to come forward.

"No matter how small or insignificant people think the information they may have, it all helps us build a picture of what happened and could prove crucial in helping us apprehend the offender."
– Detective Inspector Paul Race of Northumbria Police's Rape Investigation Team

Detectives are asking anyone who was in the area last week around the time of the incident to get in contact with them.

The man who attacked the 27-year-old woman is:
Aged in his late 20s
Of medium build
Shaved head
Speaks with a local accent
Was seen wearing a dark long sleeve top - possibly a jumper - trousers and black dress style shoes
Officers are keen to speak to anyone who was in or around Archer Street on Friday morning and saw anyone fitting the man's description or saw anyone acting suspiciously.
Anyone with any information should contact Northumbria Police on 101 ext 69191 or Crimestoppers anonymously on 0800 555 111.
"This incident was extremely traumatic for the victim and we are continuing to work with her and her family and supporting them as much as we can at this time.

"We also understand the affect incidents of this nature can have on the wider community and extra officers are continuing to carry out patrols in the area to offer reassurance."
– Chief Superintendent Steve Neill, North Tyneside Area Commander
Man robs Wallsend building society
Police are investigating a robbery in Wallsend where a man walked into a building society and handed a note to staff saying that he had a gun.
The robbery happened at the Nationwide on High Street East in Wallsend at 1.20 pm today (Friday 15 March).
Staff passed over money to the man who then left. No gun was seen and no one was injured during the robbery.
The man is:
Wearing dark track suit bottoms and trainers
With dark stubble
Carrying a black shoulder bag
Anyone with information about the robbery is being asked to call police on 101, or to contact Crimestoppers on 0800 555111.
Advertisement
Investigation launched after woman raped in Wallsend
A police investigation has been launched after a woman was raped in Wallsend.
A 27-year-old woman had been walking home alone between 2.30am and 3am this morning (Friday 15 March) when she was approached by a man who dragged her into nearby bushes and raped her.
The attack happened on a grassed area to the south of Archer Street and next to St Peter's Road, although police are working to locate the exact crime scene.
The man is:
aged in his late 20s
of thin build
with a shaved head
"We recognise this incident will cause concerns for the community and the public can be assured we are doing everything possible to establish what has happened and find the man responsible.

"Incidents of this nature are very unusual and extremely traumatic for the victim. We are working with the victim and her family and supporting them as much as we can at this time."
– Chief Inspector Mandy Shea

Anyone with any information about the incident is being asked to contact police on 101 or anonymously through Crimestoppers on 0800 555 111.
"We need to speak to anyone who was in the area around the time the offence happened and who may have seen or heard anything. I'd urge anyone who saw anyone acting suspiciously or any suspicious behaviour to contact us as soon as possible with any information.

"We have extra officers in the area today and they are speaking to local residents to see if anyone saw or heard anything. There will be more patrols in the area and a visible policing presence to reassure the community and give people the opportunity to speak to the police."
– Chief Inspector Mandy Shea
Pictures could hold key to Tyneside restoration
More than £5.2 million is being spent returning Wallsend Parks to their former glory, including rebuilding and reinstating The Duffy Memorial Fountain.
However, details of the fountain are sketchy and those behind the restoration are hoping people will have photos to help pinpoint the design details.
In 1901 when the town officially became a borough, Joseph Duffy was elected to the new council and became mayor in 1909. He died in office the following year.
The fountain was unveiled in 1912 as a result of a competition held by Joseph Duffy's children to design a memorial of their father.
Existing photographs and old measurements have allowed for a rebuild of the memorial to be commissioned, but finer details are needed.
Photographs can be emailed to wallsendparks@northtyneside.gov.uk or given to Carl McClean on 0191 6437897.
"The monument is an important part and key not only to the history of Richardson Dees Park but to Wallsend's history, too.

If anyone has any photographs I would urge them to contact the council."
– George Westwater, North Tyneside councillor
CCTV released after Wallsend shop theft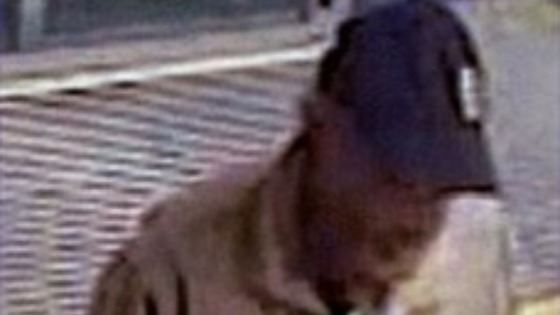 Police have released CCTV of a man that they would like to speak to after a theft took place at a shop in Wallsend.
Officers are appealing for information after a bottle of rum was stolen from the Aldi store in Wiltshire Drive around 4.30pm on Saturday November 3rd.
Police believe that the man in the images may be able to help with enquiries.
Anyone with information is asked to contact police on 101 ext 69191.
Name released of man found stabbed to death in Wallsend
A 35-year-old man who was killed in Wallsend, North Tyneside on Sunday has been named by police as Lee Houchin.
Mr Houchin, from Wallsend, was found with stab wounds in Hugh Street, at around 3.40pm on December 23.
Robert Donald, 29, of Lisle Street, Wallsend, has been charged with murder and will appear before North Tyneside Magistrates Court on Wednesday, December 26.
Load more updates
Back to top