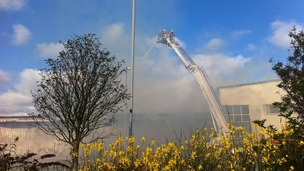 Tyne and Wear Fire Service have been tackling a blaze at a warehouse on North Tyneside.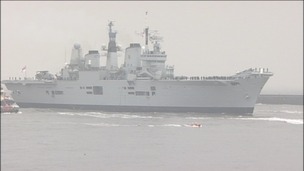 The Royal Navy's former flagship, the Ark Royal, which was built on Tyneside, is to be scrapped by a firm in Turkey, the MoD has announced.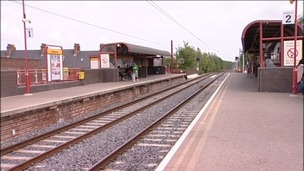 The Tyne and Wear Metro will be closed between Wallsend and Tynemouth for three weeks.
Live updates
A book has been published to celebrate the history of the famous Wallsend Boys Club.
Football stars including Alan Shearer and Michael Carrick are just two of more than 60 professional players who started there as young players. But, as the book reveals, football is only a small part of the club's past.
Click here for more information on the club.
Police are appealing for witnesses after a robbery on Wallsend High Street. At 8.35 pm on Saturday, September 21, a man threatened a member of staff in the Ladbrokes bookmakers with a knife and stole cash. She was left shocked and shaken but was not hurt.
He's described as white, aged in his mid 30s, about 5ft 8ins tall, of stocky build and wearing dark clothing and a black woollen hat with yellow writing on the bottom. He spoke with a local accent.
Advertisement
Teenager stabbed in Wallsend
A teenager has been arrested after a 17-year-old girl was stabbed on Tyneside.
It happened at about 1 am on Saturday 20 July at The Green in Wallsend.
A 16-year-old girl has been arrested on suspicion of wounding with intent to commit GBH.
A 20-year-old man has been arrested after threatening police officers with a knife. Negotiators were called to the house in Roman Court, Wallsend, on 15th June. They spent hours persuading the man inside to come out. Officers will be patrolling the area to reassure people living nearby.
"We understand that residents in the area may have seen or heard a lot of police activity in the early hours and may have been worried, however we can reassure them that at no stage was there any danger to them. "Our officers quickly responded to a call and highly skilled negotiators where called to assist in talking to the man. No one was hurt during the incident."
– North Tyneside Inspector Phil McConville
Pensioner in hospital after bag snatch
"This was a disgraceful crime carried out in broad daylight targeting an elderly woman who was injured during this incident.

"She is still in hospital receiving treatment for her injuries, which were substantial, and it has been extremely distressing both for her and her family.

"Such incidents like this where serious injuries are suffered are unusual and I'd like to reassure people that extensive enquiries are being carried out and it is still very much an active investigation. We're doing everything we can to trace this man and ensure action is taken.
"I'd urge him or anyone who knows him to think about what a cowardly attack this was and the impact it has had on an elderly woman, and come forward with information."
– North Tyneside Chief Inspector Jamie Pitt

Anyone with information can contact Northumbria Police on 101.
Pensioner in hospital after bag snatch
A woman in her 80s is receiving treatment in hospital after being injured in a bag snatch in Wallsend.
The 81-year-old was approached from behind by a man believed to be in his 20s who grabbed her bag. During a struggle she was pulled to the ground, causing injuries.
She is receiving treatment for fractures to her wrist and pelvis.
The incident happened about 1.40pm on Monday, June 3, at Carville Gardens, when the woman made her way towards Union Street.
Her bag, which is black and contained cash and personal items, has not been found.
Police describe the man as:
In his 20s
With short dark hair
Wearing dark trousers and a grey or black hooped jumper
He was carrying a jacket over his arm
Advertisement
Police have released a picture of a note handed to staff at a building society during a robbery, threatening to shoot.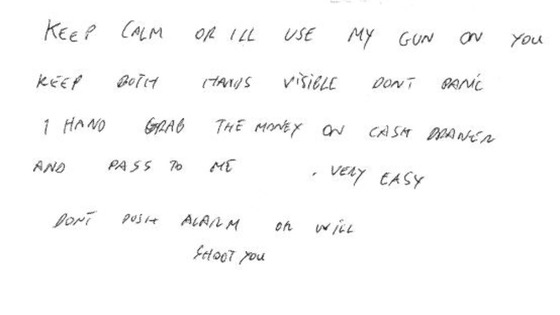 It says: "Keep calm or I'll use my gun on you. Keep both arms visible. Don't panic. 1 hand grab the money on cash drawer and pass to me. Very easy. Don't push alarm or will shoot you."
The man left the Nationwide in Wallsend with some cash. Police said it caused great distress to staff although no one was injured.
Police are investigating after a fire at a garage in Wallsend. 25 homes had to be evacuated following the blaze at AJ Garage in Brentwood Grove.
25 homes were evacuated in Wallsend after a fire at AJ Garage, in Brentwood Grove. Fire crews asked people on nearby Cedar Avenue to leave their homes as a precaution at 12.30am. They were allowed to return after two hours. The cause of the fire is unknown.
Load more updates
Back to top