Police are appealing for information after a woman was attacked and sexually assaulted in Sunderland.
It happened around 8pm on Wednesday, January 18, in the Redhouse area of the city.
A woman was attacked by a man in the area of Rishton Square and Rhodesia Road near to the grassed playing fields.
Officers are carrying out enquiries to establish what happened and locate the offender.
Police are carrying out house to house enquiries and viewing CCTV.
Extra officers are on patrol around Redhouse to offer reassurance to local residents and answer concerns.
Detective Inspector John Miller said: "We know this was an incredibly distressing incident for the woman and we have a specially trained officer speaking with her to offer her support and help us build a picture of what happened.
"We recognise local residents will be concerned and will have police and police community support officers on patrol to offer reassurance and answer any concerns."
The striking white pylon left the Port of Sunderland at around 5am on Thursday, arriving some two hours later on a barge.
Read the full story ›
Advertisement
By Kris Jepson
The centrepiece of Sunderland's new bridge has arrived in the city.
The A-frame pylon, which will stand 105 metres above the River Wear, twice the height of the Tyne Bridge, left Ghent in Belgium on Thursday 5th January.
It docked in the Port of Sunderland at around 1.30pm on Saturday 7th January.
Watch @krisjepson's report here:
As the pylon approached Wearside, it was met by harbour tug boats from the North East about a mile off the port entrance.
It was then brought in through the curved arms of the Roker and New South piers, before berthing at Greenwells Quay.
It will be seen for miles around and it will be a landmark, definitely to begin with, but I think iconic is how it builds for the future and clearly some of the bigger part of the bridge is the fact that it will have such a massive impact on the economy of the city, help the region and certainly have a social impact as well. Seeing the thing erected and being built will give a soul back to the city.
– Cllr Paul Watson, Leader, Sunderland City Council
The pylon will be the centerpiece of the new wear crossing - a four lane two way 330m bridge on track to end open next spring.
The whole operation, right up to erection of the pylon in the coming months, is a complex engineering feat.
The last time we saw something like this in the UK is when the London Eye was lifted into position. The London Eye was moved up along the River Thames adjacent to where it was going to be and was then lifted into place through a sort of cantilever system. We'll be doing something very similar. It's not been done that often and it will be very exciting and I'm sure when we do that, there will be lots of people there to see it again.
– David Abdy, New Wear Crossing Project Director
The boss of Nissan, Carlos Ghosn, is holding talks in Downing Street with the Prime Minister Theresa May over the vexed subject of Nissan's future on Wearside post-Brexit.
The company has warned that future investments in the UK were under threat unless the company was compensated by the UK government for any tariffs they might have to pay for exporting cars to EU countries after Britain leaves the European single market.
We can confirm that Nissan CEO Carlos Ghosn will be meeting with the UK Prime Minister Theresa May at Downing Street on the afternoon of Friday 14th October. At the meeting, Mr Ghosn, Mrs May and their teams will discuss the current situation relating to Britain's proposed exit of the European Union. The purpose of this meeting between Mr Ghosn and Mrs May is to ensure both Nissan and the UK Government have an aligned way forward that meets the needs of both the company and the country. We do not expect any specific agreement to be communicated following this initial introductory meeting of the CEO and the Prime Minister.
– Nissan spokesperson
It's National Mackem Day! You've been in touch to tell us how you are showing your local pride.
Read the full story ›
It happened between 4pm on Friday July 22 and 7.30am on Monday July 25 at Shiney Row Primary School.
Read the full story ›
Advertisement
Sunderland City Council has apologised to thousands of drivers who have experienced long delays because of a traffic survey in the city centre.
Surveyors have spent the day stopping vehicles in order to collate information including journey times and peak hours.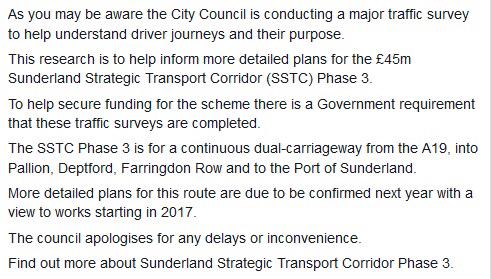 Several frustrated drivers took to social media:
This traffic census in Sunderland is an absolute joke, nout like making half of the town late for work ??? @sunderlandnow
Back home in time for some textbook bureaucratic idiocy. A traffic survey during rush hour. What were they thinking? #Sunderland
Police have launched a burglary crackdown on part of Wearside.
Operation Echo follows a rise in break-ins in Houghton-le-Spring in a four week period between April and early May.
27 thefts from cars were reported to police during that time along with more than a dozen house burglaries.
Extra police patrols are underway, and one senior officer has issued advice to local people.
With summer just around the corner it is important to remember to keep your homes secure as people will spend more time outdoors.

I would also like to remind motorists that they should always lock their vehicles, even if leaving it for a few moments, and never leave anything valuable on display.
– Insp Les Goodliff, Northumbria Police
A benefit cheat from Houghton-le-Spring who claimed over £80,000 which he was not entitled to has been spared jail.
Read the full story ›
Load more updates