The boss of Nissan, Carlos Ghosn, is holding talks in Downing Street with the Prime Minister Theresa May over the vexed subject of Nissan's future on Wearside post-Brexit.
The company has warned that future investments in the UK were under threat unless the company was compensated by the UK government for any tariffs they might have to pay for exporting cars to EU countries after Britain leaves the European single market.
We can confirm that Nissan CEO Carlos Ghosn will be meeting with the UK Prime Minister Theresa May at Downing Street on the afternoon of Friday 14th October. At the meeting, Mr Ghosn, Mrs May and their teams will discuss the current situation relating to Britain's proposed exit of the European Union. The purpose of this meeting between Mr Ghosn and Mrs May is to ensure both Nissan and the UK Government have an aligned way forward that meets the needs of both the company and the country. We do not expect any specific agreement to be communicated following this initial introductory meeting of the CEO and the Prime Minister.
– Nissan spokesperson
It's National Mackem Day! You've been in touch to tell us how you are showing your local pride.
Read the full story ›
Advertisement
It happened between 4pm on Friday July 22 and 7.30am on Monday July 25 at Shiney Row Primary School.
Read the full story ›
Sunderland City Council has apologised to thousands of drivers who have experienced long delays because of a traffic survey in the city centre.
Surveyors have spent the day stopping vehicles in order to collate information including journey times and peak hours.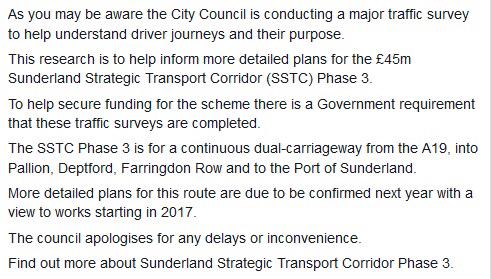 Several frustrated drivers took to social media:
This traffic census in Sunderland is an absolute joke, nout like making half of the town late for work ??? @sunderlandnow
Back home in time for some textbook bureaucratic idiocy. A traffic survey during rush hour. What were they thinking? #Sunderland
Police have launched a burglary crackdown on part of Wearside.
Operation Echo follows a rise in break-ins in Houghton-le-Spring in a four week period between April and early May.
27 thefts from cars were reported to police during that time along with more than a dozen house burglaries.
Extra police patrols are underway, and one senior officer has issued advice to local people.
With summer just around the corner it is important to remember to keep your homes secure as people will spend more time outdoors.

I would also like to remind motorists that they should always lock their vehicles, even if leaving it for a few moments, and never leave anything valuable on display.
– Insp Les Goodliff, Northumbria Police
Advertisement
A benefit cheat from Houghton-le-Spring who claimed over £80,000 which he was not entitled to has been spared jail.
Read the full story ›
A 'welcome home' street party has been thrown for a boy who has just returned following a life changing operation in America.
Derek Russell, 3, has cerebral palsy and needed surgery to help him walk. He has been away with his mum for five weeks and received a warm welcome from his community on Wearside.
Two firefighters have been hurt after a ceiling collapsed while tackling a blaze at a children's home on Wearside late on Tuesday night, October 14.
The pair have both treated for whiplash injuries and burns at the Sunderland Royal Hospital and fire chiefs say it could have been far worse.
Police believe the fire was started deliberately and have launched an investigation.
A housing provider on Wearside is leading a campaign to get workmen to help spot the signs of domestic violence.
Workers from Gentoo already look out for broken windows and bust locks and can inform support workers if they have concerns. But now housing companies across the country may follow their example.
Mark Robson, who works as a Joiner, has spoken of the signs they look out for:
Load more updates