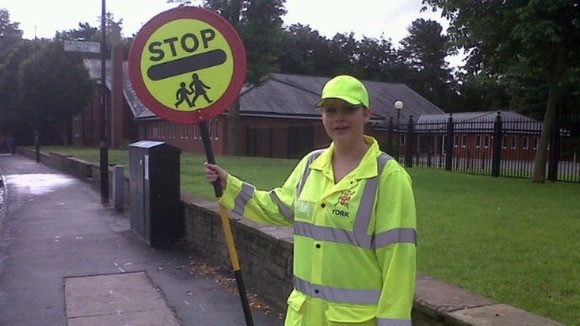 A dedicated teenager is being hailed as Britain's youngest lollipop lady after swapping her paper round for a patrol when she was 17.
Marie Patterson, from York, first applied for the post when she was 15 but was told she would have to wait a couple of years until she was old enough to don the iconic fluorescent jacket.
She now patrols one of the busy crossings near her home in Acomb to the delight of children and parents.
Marie, who has since turned 18, left college to help care for her mother after she suffered a heart attack and stroke and says the job fits in perfectly:
"It was so nerve-wracking at first, but the parents and schoolchildren have been so polite and I look forward to seeing them every weekday. I love doing the job. It is great."
It is sixty years since school crossing patrols were introduced. Marie's supervisor says she is pleased that younger people are showing an interest in keeping the tradition going.