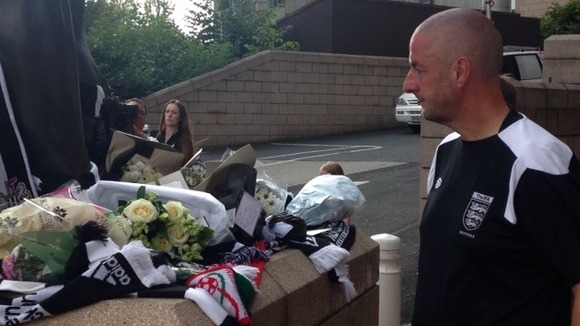 Liam Sweeney's father - Barry - visits the memorial for him and John Alder at St James Park.
Liam and John were great friends and even bigger NUFC fans who were tragically killed in the Malaysian Airlines crash as they were travelling to New Zealand to watch their team.
Barry said: "He was a kind, generous, hard working lad who was on his way to watch football and he ends up being killed by an act of war.
"Someone has to be held responsible for what happened to my lad.
"If someone hurts your family there are things you can do about but when it's a government or a country there's nothing we can do, we can't go to war.
"It was a terrible act of terrorism and it's cost the life of my son and so many others, people from all over the world.
"The governments need to get together and find a solution to this before more innocent lives are lost.
"My boy was excited to be travelling to watch a game of football he had no part or interest in any of this conflict. How could this happen to him?"