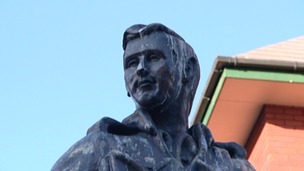 South Shields is holding a memorial service to mark the anniversary of Anzac Day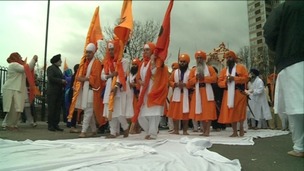 Members of Tyneside's Sikh community have been celebrating the opening of a new temple that cost £2.7, paid for by entirely by fundraising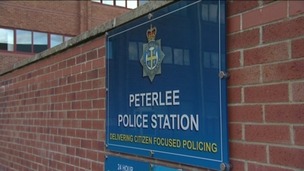 The family of a County Durham man who died in police custody have taken the difficult decision to release CCTV of the moments after he died
Live updates
Family thank Northumberland bone marrow donor
A Northumberland father who handed an American child with cancer a new lease of life has flown out to meet him for the first time.
Barry Crackett, from Widdrington Station, travelled out to Los Angeles to meet schoolboy Ryan Compton, seven, after he saved his life through a bone marrow transplant.
"I was feeling quite nervous, there had been a big build-up and there was loads of camera crews.

"I met him and we got on straight away, the day was so busy I did not really get a chance to speak to the family that day, but we then spent the rest of the week with them.

"We hugged each other and everyone was crying. We clicked with the family straight away, they are really nice people and we have a lot of the same interests."
– Barry Crackett

The 34-year-old first joined the Anthony Nolan register in 2002 and in October 2010 he was told they had found a match.

Along with his wife Jessica and newborn son Sol, Mr Crackett has now spent a week with Ryan and his family, who have said that without him their son would not be with them today.

Ryan's mother, Maggie Compton, said they had wanted to thank Barry for what he did for a long time.
"We wanted from the minute that we heard that Ryan had a perfect match to know who he was.

"We always wanted to thank him for being so selfless, not knowing us but going to such a great length to save his life.

"Ryan is so healthy now, he is now able to be a normal little boy. Without Barry we would not have Ryan with us today.

"It was overwhelming in a wonderful way to meet Barry, it's hard to put into words what the day meant. We feel like instant family with them. My son is running around and he is being powered by Barry's blood."
– Maggie Compton
'Veterans' Courts' being discussed in region
A new type of court has been introduced in America to deal with army veterans who get into trouble.
The emphasis is on treatment and help rather than punishment. And now so-called Veterans' Courts are being discussed in our region.
Watch Derek Proud's report here:
Advertisement
Joe McElderry fulfils lifelong ambition to duet with Beyonce!
Joe McElderry got more than he bargained for at Beyonce's concert at the Manchester Evening News Arena last night.
The singer, from South Shields, was picked out to sing along with one of the American superstar's songs.
But she was surprised when the random face in the crowd she chose to duet with was one of the country's best-known pop stars!
Guilty plea for Facebook threats
Reece Elliott pleads guilty to making facebook threats to kill
A man from South Shields has pleaded guilty to making threats to kill over facebook.
Reece Elliott, from the town, made threats against 200 children in a school in Tennessee, causing thousands of children in the area to miss school.
Father-of-one Reece Elliott, 24, of Fossway, South Shields, South Tyneside, went on a tribute site for a 17-year-old Tennessee girl who was killed in a car accident and left a series of messages under an assumed name.
Sensitivities were heightened in the US following the Newtown shooting which saw 20 children and six adults shot in an elementary school, 3,000 pupils in the Warren County area missed school the next day, Newcastle Crown Court heard.
"My father has three guns. I'm planning on killing him first and putting his body in a dumpster then driving to school and I'm going tokill hopefully at least 200 people all before killing myself."
– One of Reece Elliott's Facebook post
Guilty plea for Facebook threats
South Shields man pleads guilty to threats to kill over Facebook
An internet troll today admitted threatening to kill 200 US citizens in Facebook posts which led to thousands of children having to stay off school.
Reece Elliott, from South Shields, South Tyneside, appeared at Newcastle Crown Court.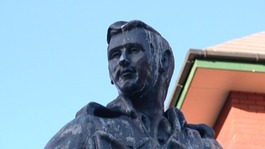 South Shields is holding a memorial service to mark the anniversary of Anzac Day
Read the full story
Advertisement
Tributes paid to Boston victims
A minute silence in Sunderland to remember the Boston victims
Competitors, volunteers and spectators will stand in silence at the start of Sunday's Marathon of the North, to remember the victims of the Boston bombings.
The tribute was announced by the event founder and organiser Steve Cram.
He said the race safety plan has been reviewed in the light of the Boston attacks as the security of participants is paramount but said he didn't anticipate problems.
Watch Helen Ford's report here:
Tributes paid to Boston victims
"The way to show your solidarity is to go out and take part in your event"
Olympic gold medalist Steve Cram has been speaking to ITV News about how the organisers of the Marathon of the North, and those taking part, will be paying tribute to the victims of the Boston bombings this weekend.
Tributes paid to Boston victims
Marathon of the North pays tribute to victims of Boston bombings
Organisers of the Marathon of the North have been paying tribute to the runners and supporters who lost their lives and were injured in the bombings at the Boston Marathon.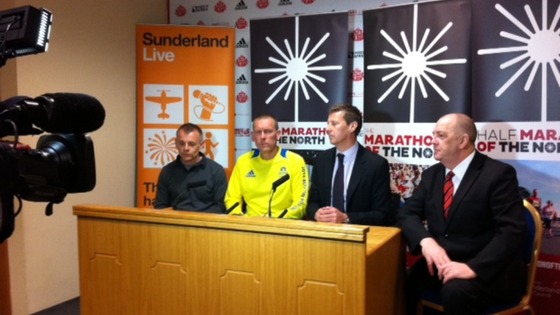 Tributes paid to Boston victims
Minute's silence to remember Boston Marathon victims
A minute's silence is due to take place before the start of the Marathon of the North on Sunday as organisers and participants pay their respects to victims of the Boston Marathon bombings.
5000 runners are expected to line up for the event, which is in its second year.
The Marathon of the North will take place a fortnight after bombs exploded near the finish line of the Boston Marathon, killing three people.
Load more updates