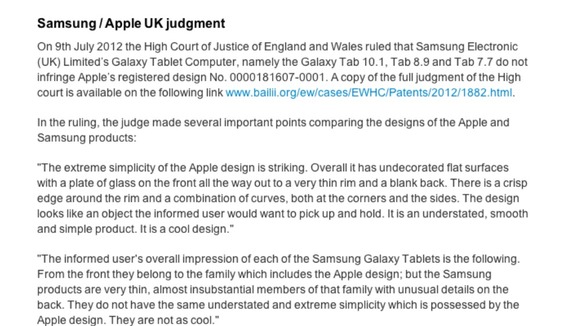 Apple has reluctantly posted a page on its UK website which states that Samsung's Galaxy tablet did not copy the iPad.
Last week the High Court upheld an earlier ruling which said copyright was not infringed, with a judge compelling the California-based firm to run an online notice for six months and to take out advertisements in several newspapers.
The first paragraph of its web notice reads:
"On 9th July 2012 the High Court of Justice of England and Wales ruled that Samsung Electronic(UK) Limited's Galaxy Tablet Computer, namely the Galaxy Tab 10.1, Tab 8.9 and Tab 7.7 do notinfringe Apple's registered design No. 0000181607-0001."
Another paragraph repeats a judge's ruling that the Samsung devices "do not have the same understated and extreme simplicity which is possessed by the Apple [iPad] design. They are not as cool."