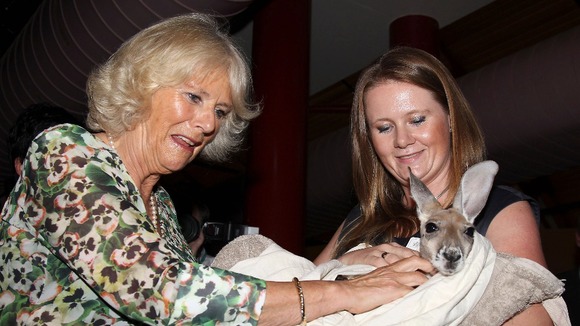 The Duchess of Cornwall lost her heart to an orphaned kangaroo joey as Prince Charles and his wife arrived in the Australian Outback.
Camilla stroked the 12-month-old Rooby Blue during a visit to the remote rural settlement of Longreach.
She said: "Oh hello," then "Very friendly. Doesn't it look pretty?
"There's a first time for everything."
The Duchess scratched the Rooby Blue under and then held the animal.
Charles also took an interest and gave the joey a pat on the head as Camilla added: "That's so sweet."
The Prince of Wales also became a bushwhacker for a day, wearing the akubra hat usually worn by rural workers.
And the royal couple visited the Australian Stockman's Hall of Fame, a heritage centre remembering cattle pioneers who developed the Outback.