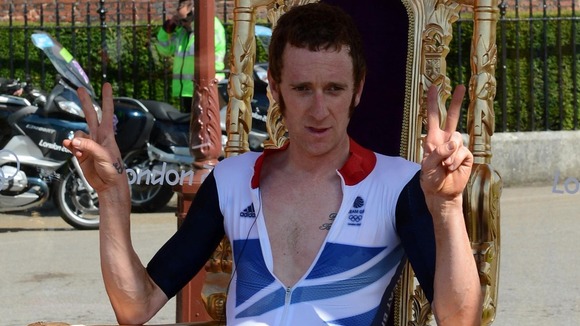 Cyclist Bradley Wiggins has apologised for gesturing at the media as he arrived home from hospital yesterday afternoon. The Tour de France and Olympic hero will return to hospital on Monday to undergo further X-rays on his fractured rib.
He is also suffering from a bruised lung and dislocated finger, and is being monitored by medical staff. Wiggins thanked the public for their support. In an statement on the Team Sky cycling site he said:
"I'd like to take this opportunity to thank everyone for their kind thoughts and messages over the last 48 hours, and of course all the staff at the Royal Preston Hospital who looked after me so well."
"Although I'm still a little bit sore I will now be spending time at home with my family and concentrating on making a full recovery."
"I would also like to apologise for the gesture that I made when I arrived home yesterday afternoon. I was tired, in a lot of pain, and just wanted to get inside, but I shouldn't have reacted the way I did. I'm sorry for that."