The father of a Pakistani schoolgirl who was shot by the Taliban is to become a UN Special Advisor on Global Education.
Ziauddin Yousafzai has been appointed by UN Special Envoy Gordon Brown as an adviser to assist the work of getting every child to school by the end of 2015.
Mr Brown said: 'With today's announcements we show that as a result of Malala's courage and her inspiration the whole world is pushing for education for every girl.
'We will prepare country-by-country reports of the gaps in educational opportunity. We will hold a summit with off-track countries in Washington on April 19th, which the UN Secretary-General, the President of the World Bank and I will host."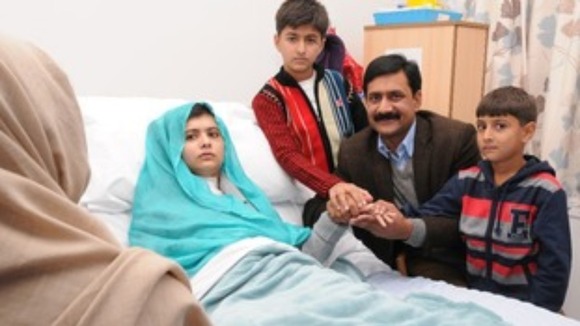 He added: "In time Malala herself is determined to join the campaign for every girl's right to education and when she has recovered she will do so, becoming one of the leaders of that campaign.
"I can announce that after consultation with Malala's family, there will be on July 12th next year, Malala's own birthday, a day of action. We will invite children to march, demonstrate, petition and pray for children's education to be delivered worldwide."