Malala is likely to secure permanent residence in the UK after her father was given a job with the Pakistani consulate in Birmingham yesterday.
Ziauddin Yousufzai has been appointed education attache for three years.
Both he and his daughter have had threats made against their lives by the Taliban, since the shooting.
A statement released by the Pakistani government said it was "pleased to appoint" Mr Yousufzai to head of education at the consulate.
The appointment is a direct result of Pakistan's President Asif Ali Zardari visiting Malala and her father in hospital.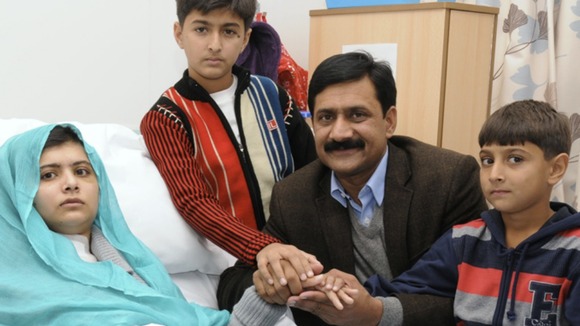 "The president had also directed high commissioner Mr Wajid Shamsul Hasan to look after all the needs of Malala, and discuss with Mr Yousufzai a mode for financial sustenance and accommodation of the family.
"In light of that, the present appointment has been made."
The Pakistani government has been paying for all the family's needs while they have been in the UK, while the United Arab Emirates funded the medical airlift which transported Malala to Britain for further treatment.