MPs have said that the Care Quality Commission was weakened last year when the body failed to address issues raised by whistleblower board member Kay Sheldon.
She had voiced concerns about poor leadership and safety breaches at the health regulator but the CQC "failed to address and act on them".
In August, The Independent reported allegations that the outgoing chair of the regular, Dame Jo Williams had attempted to discredit Ms Sheldon by casting doubts about her mental health.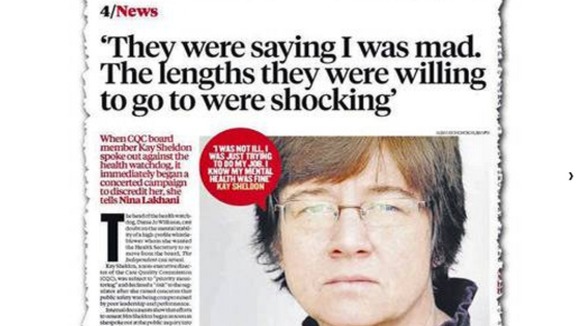 The newspaper said that Dame Williams had commissioned an occupational health doctor to psychiatrically assess Ms Sheldon without her knowledge.
A report concluded Ms Sheldon, who has a history of depression, was possibly suffering from "paranoid schizophrenia" although the doctor never met her and spoke to her briefly on the phone.
She said: "I am very open about my mental health problems, but it feels like they tried to use it against me".
Dame Williams also wrote to the then Health Secretary Andrew Lansley requesting that Ms Sheldon be removed from the board.
However, he later decided that she should stay after she started legal action.