The 787, known as the Dreamliner, is Boeing's newest and most technologically advanced jet and the company is counting heavily on its success.
But since its launch, which came after delays of more than three years, the plane has been plagued by a series of problems including a battery fire and fuel leaks.
Japan's ANA and Japan Airlines are major customers for the jet and among the first to fly it. Both airlines have now grounded their Dreamliners following the latest incident.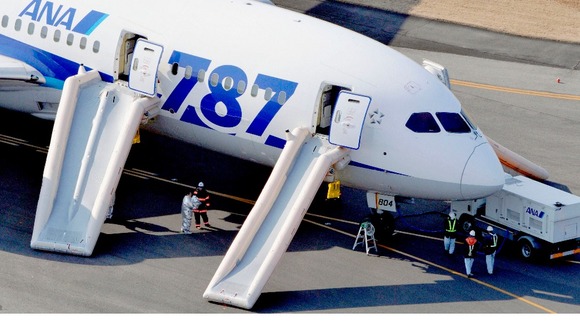 The 787 relies more than any other modern airliner on electrical signals to help power nearly everything the plane does.
It is also the first Boeing plane to use rechargeable lithium ion batteries, which charge faster and can be moulded to space-saving shapes compared to other aircraft batteries. The plane is made with lightweight composite materials instead of aluminium.
The US Federal Aviation Administration said it was "monitoring a preliminary report of an incident in Japan earlier today involving a Boeing 787".