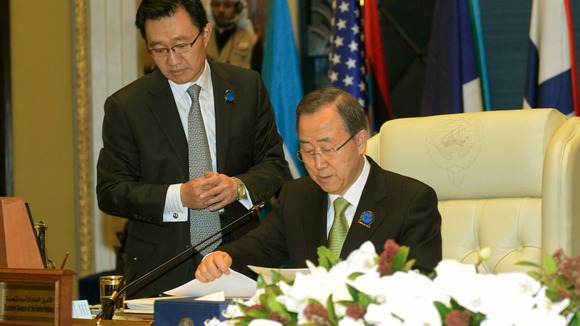 UN Secretary General Ban Ki-moon reiterated his condemnation of the ongoing violence in Syria, as he appealed for more aid to address the situation, which he said was "catastrophic, and worsening by the day."
Speaking at a donor conference in Kuwait he said:
"How many more people will be killed if the current situation continues? The situation in Syria is catastrophic and getting worse every day. Every day Syrians face unrelenting horrors."
"I appeal to all sides and particularly the Syrian government, to stop the killing ... in the name of humanity, stop the killing, stop the violence."
The UN says it needs an additional $1.5 billion to provide urgent humanitarian assistance for four million Syrians inside the country, and for more than 700,000 who have fled the conflict since it began. The UN has received only 18% of the target pledges.