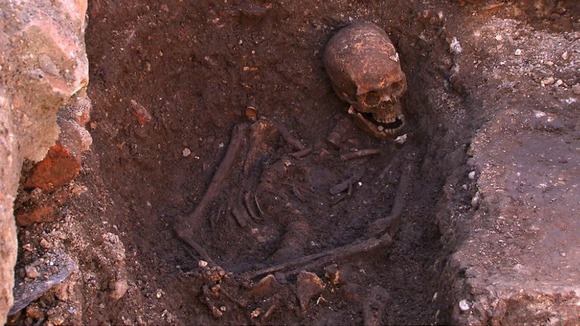 "A horse, a horse, my kingdom for a horse" is Richard III's famous cry in Shakespeare's tragedy about the monarch, but there may be a backlash against the bard now it has been revealed he presented an inaccurate physical portrayal of the king, according to one expert.
Today's evidence suggests Richard III's disability was not as severe as suggested in the play, which tells of a monarch blighted by deformity, including details of a pronounced hunchback and withered arm.
Professor Philip Schwyzer, an expert in renaissance literature at the University of Exeter, predicted a surge in interest in the play, but said he also expected criticism of the great writer:
"Shakespeare's physical description of the king sets up a sort of 'chicken and egg' scenario," he said. "Richard III says he cannot prove himself a lover because of his deformity, so he will prove himself a villain.
"Shakespeare poses the question of which came first - is he villainous because of his deformity, or does the deformity emphasise his mental characteristics? Whatever the results of today's findings, the mysteries of Richard III are far from solved."