Pope Benedict XVI thanked the faithful for their "love and prayers" at his first public appearance since announcing his resignation, telling them he is stepping down for "the good of the Church".
"Continue to pray for me, for the Church and for the future Pope," he said at the start of his weekly general audience at the Vatican.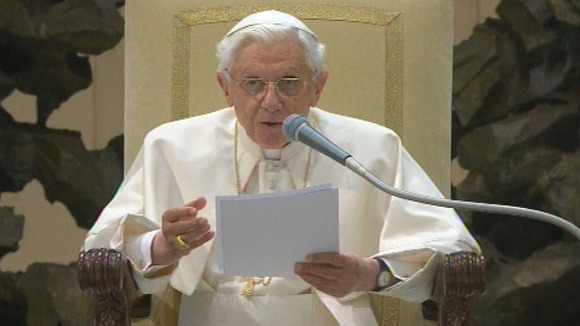 The Pope was interrupted several times by rapturous applause from the 8,000-strong crowd who gathered to watch.
Pope Benedict XVI said he was "well aware of the gravity of such an act" but was also "aware of not being able to carry out my [papal] ministry with the physical and spiritual force that it requires".
Echoing the remarks he made to stunned cardinals when announcing his decision to resign on Monday, the Pope said, "I took this decision in full freedom for the good of the Church after praying for a long time and examining by conscience before God".