A crippled cruise ship is set to dock in Mobile, Alabama tonight, ending the holiday voyage that some passengers have described as 'hellish'.
Passengers have been stranded on the Triumph, left adrift in the Gulf of Mexico, following an engine room fire which knocked the power and plumbing out across most of the vessel.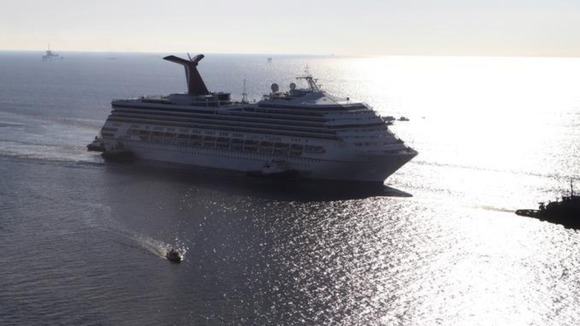 Passengers have described the overflowing toilets, with the ship's cabins and passages, soaked in raw sewage.
It is estimated it will take around five hours to unload the ship which is carrying 3,143 passengers and 1,086 crew members.
The National Transportation Safety Board has opened an investigation, after Carnival Cruise Lines acknowledged that the ship had been plagued by other mechanical problems in the weeks before the engine-room blaze.