David Cameron may have been stumped at a Q&A in Mumbai earlier but he bounced back by following his own advice that exercise is the key.
The Prime Minister took a break from his trade mission in India to take part in a cricket match at the famous Oval Maidan.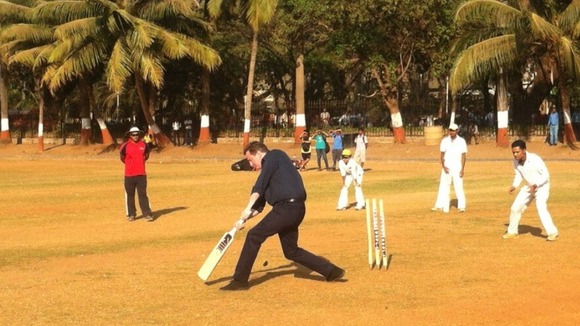 He faced some ferocious deliveries from youngsters but handled them well, with former England women's captain Clare Connor saying, "he's got used to the rough surface very quickly" and adding "that's a brilliant cover drive."
Mr Cameron's middle stump eventually fell to a fast ball from a young bowler named Sachin - possibly in homage to India's cricket hero Sachin Tendulkar.
The Prime Minister said: "It was good fun and it's a great place to play. I knew I was in trouble when they brought on that third bowler though."