A mural, believed to be the work of graffiti artist Banksy, that was removed from a wall in North London in mysterious circumstances could reach more than £450,000 when it is auctioned in Miami tonight.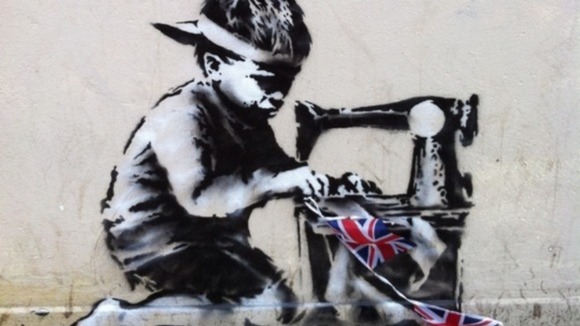 The work, which shows a young boy hunched over a sewing machine making Union Jack bunting, appeared on the wall in Wood Green last May, just before the Diamond Jubilee celebrations.
But the mural by arguably the world's most famous graffiti artist disappeared last weekend and is now being sold thousands of miles away in Miami, despite pleas from people back in Wood Green upset by its disappearance.
Yesterday a new work appeared at the site, in Banksy style, showing a rat holding a card with the word 'why?' written on it.
Read: Missing Banksy mural turns up at US auction