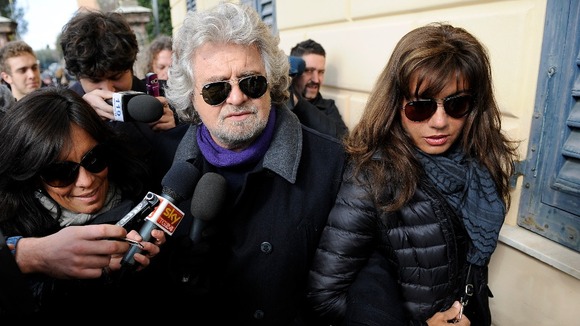 The former TV comic whose anti-establishment "non-party" won more votes than any other single party in Italy's deadlocked election has showed no early signs of wanting to negotiate for power.
Beppe Grillo's 5-Star Movement collected almost 8.7 million votes overall, a tally which only trailed the multi-group blocs of the centre-left and centre-right.
Commentators said all his adversaries underestimated the appeal of a grassroots movement that found particular favour with young jobless Italians and others weary with Prime Minister Mario Monti's internationally-endorsed austerity agenda.
Mr Grillo, who mixes fierce attacks on corruption with policies that range from clean energy to free internet, surged in the final weeks of the campaign as hundreds of thousands turned up at his outspoken rallies.
Watch: ITV News' Europe Editor James Mates reports on the shock emergence of the Five Star comic.