Nick Clegg has urged the Liberal Democrats to "attack" the Tories as he attempted to draw a line under damaging scandals and build on the Eastleigh by-election victory.
The Deputy Prime Minister dismissed suggestions he was abandoning the party's core values, and promised to stop David Cameron dragging the coalition to the right.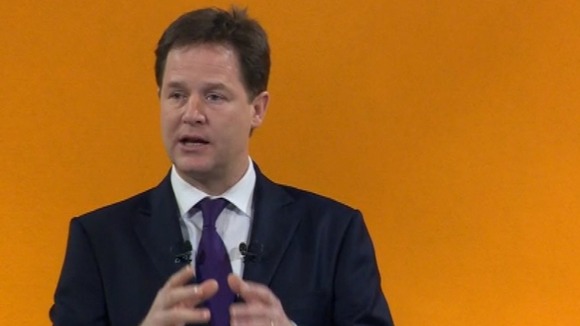 Speaking to the Liberal Democrat Spring Conference Nick Clegg the Lib Dems were no longer a "receptacle for people who don't like the world". He added:
"The Conservative party knows it needs to stay on the centre ground to have any chance of speaking to ordinary people's concerns. At least the leadership seem to. But they just can't manage it, no matter how hard they try.
"They're like a kind of broken shopping trolley. Every time you try and push them straight ahead they veer off to the right hand side..."