The Home Secretary has been accused of hiding from her responsibilities as ministers refused to confirm if plans for a minimum price on alcohol had been scrapped.
Shadow home secretary Yvette Cooper said both Mrs May's reputation and David Cameron's authority were in "tatters" amid reports of Cabinet in-fighting over the policy.
Theresa May is alleged to have led opposition to the policy, for which her department has responsibility, and had "overruled" the Prime Minister, according to Ms Cooper.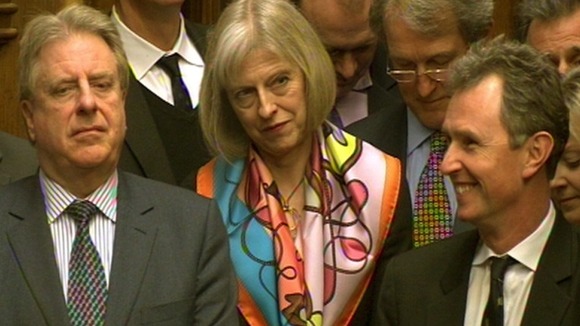 Crime Prevention Minister Jeremy Browne was forced to come to the Commons to respond to an urgent question on the state of the plan.A base price of 45p per unit in England and Wales had been suggested in an effort to tackle problem drinking.
Mr Browne said a consultation had closed and there were "powerful arguments on both sides of the debate".
A decision would be announced once "careful evaluation" was completed, he added.
But Ms Cooper said: "I feel sorry for the minister, who has been sent in here to waffle to the world while the Home Secretary hides."