The Duchess of Cambridge joined 24 other adults on a training day to learn scouting skills to pass on to children at their own groups.
As part of the day Kate learnt how to make "twisters" or "dampers".
She kneaded dough in a bowl for several minutes before making elongated twists. After washing the dough mix off her hands Kate wrapped a twist of the messy mixture around a twig stripped of bark which was placed over the open fire ready to toast.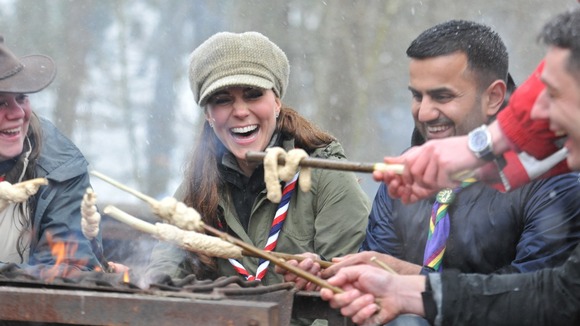 The volunteers' efforts had mixed results, with the Duchess laughing and giggling with the others as some of the twisters dropped into the flames.
"I'm not sure if these are going to look particularly edible," Kate laughed.
After several minutes toasting on the fire Kate pulled off a piece of the bread and, rather gingerly, popped it in her mouth. "Oh, its actually not bad," she told the group. "It is quite sugary though."