A hand-written note by Baroness Thatcher gives some hints about how she grappled with her response to the Duke of York's deployment as part of the Falklands task force.
The note, prepared after April 2, 1982, possibly in preparation for a speech or press conference, shows that the Prime Minister settled on a brief but broadly supportive position.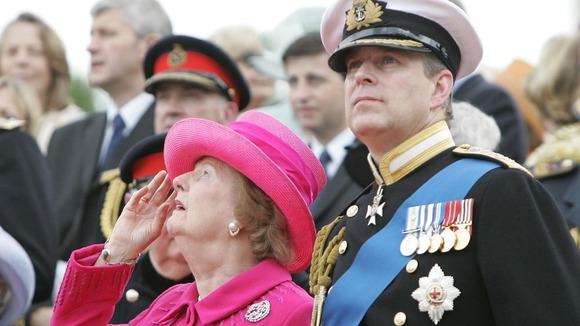 "If asked about Prince Andrew it is the express wish of The Queen, the Duke of Edinburgh, and of [Prince Andrew himself, that if the Invincible sails he sails with her," she wrote.However, this is followed by several sentences obscured by felt tip.
The deleted passage begins "I should not withhold consent".This itself has been amended to "I cannot withhold consent" before again being crossed out.The words which follow are difficult to decipher but end: "our courage are priceless assets which our Royal Family has (sic) themselves in abundance."
Lady Thatcher prepared the note for her own consumption and at that time had no reason to believe it would ever be made public.It is not therefore thought the crossing out represented any significant change of heart, simply her desire to ensure she delivered the correct message.