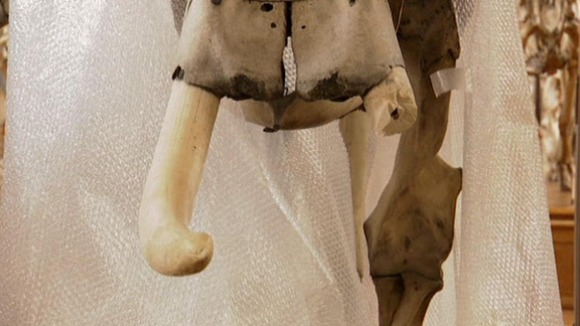 The attack on an elephant skeleton at the Paris Natural History Musuem is the latest in a series of thefts from people looking to cash in on the lucrative trade in ivory and rhino horn.
Rhino horn is worth £65,000 a kilo, which makes it more valuable than cocaine, heroin and gold.
In 2011 rare black rhino horn was stolen from Druzilla's Wild Life Park in Sussex.
In 2012 staff at the Powell-Cotton Museum at Quex Park in Birchington had to replace valuable rhino horns with fakes after they were hacked off the exhibits by the thieves.
Volunteers are currently helping to man 24 hour patrols of rhino enclosures at Port Lympne and Howletts Wildlife Parks after police received information that criminal gangs were hoping to poach the creatures.