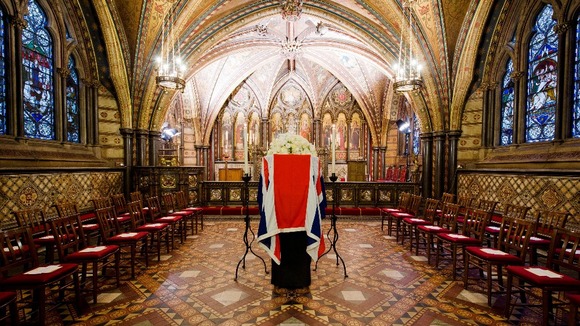 The nation will pay its final respects to Baroness Thatcher as thousands of people are expected to line the streets of central London to see the the former prime minister carried with full military honours to St Paul's Cathedral.
The Queen heads a glittering list of dignitaries from around the world, former colleagues and showbusiness stars due to attend the funeral.
Lady Thatcher's body will leave parliament for the last time this morning after spending the night resting in the crypt chapel of St Mary Undercroft.
Read: The Order of Service for Baroness Thatcher's funeral.
Watch: Margaret Thatcher's funeral route to St Paul's Cathedral.
Read: Margaret Thatcher funeral details revealed in full.
Read: Falkland Islanders' tribute to Thatcher 'the liberator'.
Read: From Clarkson to Bassey - Who was invited to Margaret Thatcher's funeral?