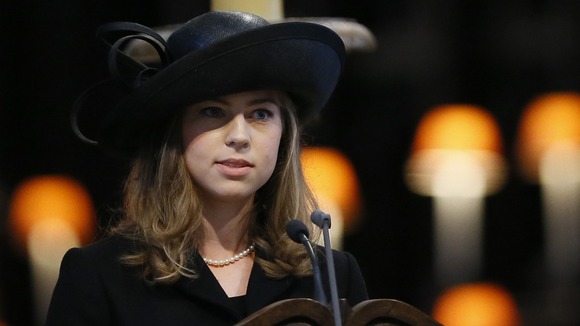 Baroness Thatcher's granddaughter Amanda was thrust into the spotlight today as she played a key role in the former prime minister's funeral.
The 19-year-old appeared self-assured as she delivered a reading during the service in front of the Queen, leading politicians and foreign dignitaries including former United States diplomat Henry Kissinger.
Amanda, the daughter of Lady Thatcher's son Sir Mark, gave the first reading in the ceremony, from St Paul's letter to the Ephesians VI, 10-18, which says: "Finally, my brethren, be strong in The Lord, and in the power of his might."
Watch: Thatcher's granddaughter delivers first reading
Lady Thatcher's granddaughter was said to be a talented sportswoman at school, excelling as a runner, and was also voted "most likely to change the world" by her high school peers.
She is now studying at the University of Richmond in Virginia.