Three men were sentenced today, after being found guilty of a terror plot to detonate up to eight suicide bombs in the UK.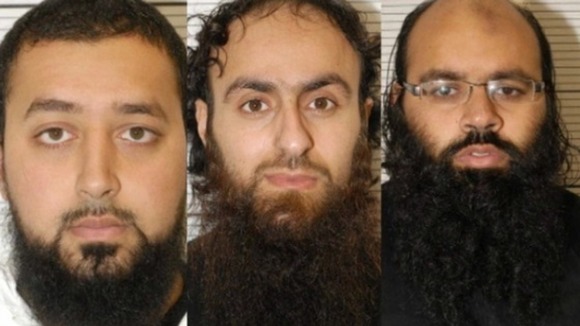 Irfan Naseer was handed a life sentence and must serve at least 18 years before he can be considered for parole when he appeared at Woolwich Crown Court.
Together with Naseer, the cell was led by his "inseparable" friend Irfan Khalid, 28, and Ashik Ali, also 28. Khalid boasted that the attack was "another 9/11".
Sentencing him to an extended term of 23 years in prison and to serve 12 years before he can be released on licence, Mr Justice Henriques said he took into account that he had been found to be in the bottom 2%-5% in terms of cognitive ability.
Partially-sighted Ali, wearing a white robe, was handed an extended sentence of 20 years in prison and will serve a minimum of 10 years before he can be considered for parole.
The judge said he did not accept the defendant's portrayal of himself as the group's "tea boy or runner for others".
Naseer was found guilty of five counts of engaging in conduct in preparation of terrorist acts, Khalid of four, and Ali of three, all between Christmas Day 2010 and September 19 2011.
Read more: Juliet Bremner on the trio who hoped to cause worst atrocity on British soil