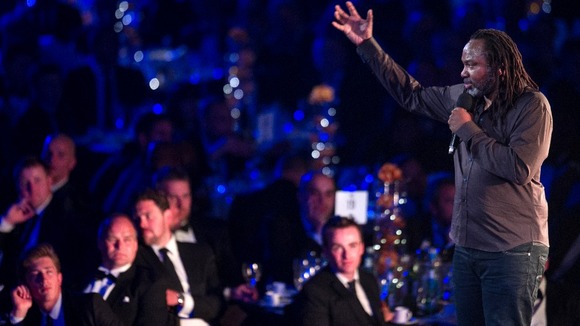 The Professional Footballers' Association have accused a comedian of making "offensive" remarks during his stand-up routine at their awards ceremony – and have him to return his payment.
Reginald D Hunter is accused of breaching a verbal contract after he repeatedly use the word "'n*****" and make jokes about Jews and women.
PFA deputy chief executive Bobby Barnes told the Daily Telegraph: "We are in discussions with our lawyer and our lawyer is in discussion with the London Speaker Bureau, who we booked him through."
On his official Facebook page, Hunter appeared to respond to criticism by entitling a collection of photos from the evening "The PFA Awards - the gig. Aka 'Irony's Annual Night Off'".
Under one picture of him performing, a caption reads: "Reginald D Hunter washing out the dirty taste of racism with a little ginger ale."