A huge wildfire in Southern California has burned through coastal wilderness to the beach and back through canyons toward inland neighbourhoods when winds reversed direction.
The wind shift forced fire commanders to order a new evacuation of homes in a Thousand Oaks neighbourhood along a two-mile stretch of road overlooking smoke-filled coastal canyons.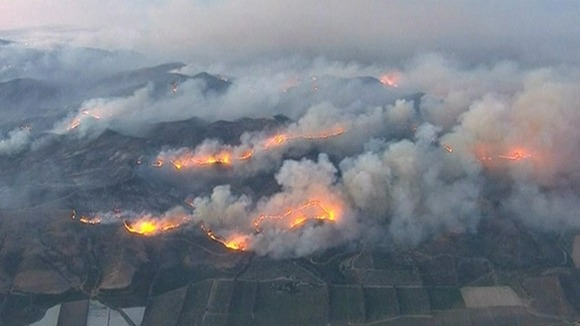 Fears arose after gusty Santa Ana winds from the northeast faded and ocean breezes from the southwest pushed inland.
Ventura County fire spokesman Bill Nash said: "In the perfect scenario we'd just hope for the wind to go away but what happened is the wind just turned around.
He added that the "worst-case weather scenario" sent flames ripping through fresh fuel just to the east of where the blaze charred wildlands a day earlier.