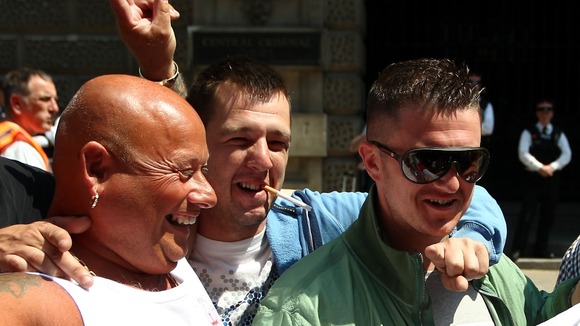 Dozens of EDL supporters gathered outside the Old Bailey as 6 men who planned a bloody attack on an EDL rally were sentenced.
Jewel Uddin, 27, Omar Mohammed Khan, 31, Mohammed Hasseen, 24, Anzal Hussain, 25, Mohammed Saud, 23, and Zohaib Ahmed, 22, admitted planning the attack at a hearing on April 30
Read: Gang of 6 men plead guilty to attack on far right group.
Leader Tommy Robinson and his deputy Kevin Carroll briefly went to the public gallery of Court 12 to watch the beginning of the two-day hearing.
The court heard how the plot to strike an EDL event in Dewsbury, West Yorkshire, only failed by chance - the group arrived late and the rally had finished earlier than expected.
Watch: EDL attack plotters 'intended to kill'
Pictures: Weapons found in car used by EDL attack plotters
EDL supporters chanted "Anjem Choudary, off our streets" and "EDL" and waved English flags outside court. Two men aged 24 and 26 were arrested outside the court on suspicion of being drunk and disorderly, City of London police said.