Ian Brady has appeared on the video link from his tribunal hearing for the first time since leaving the room this morning.
Earlier Judge Robert Atherton explained that Brady was free to come and go from the proceedings, and was not forced to attend.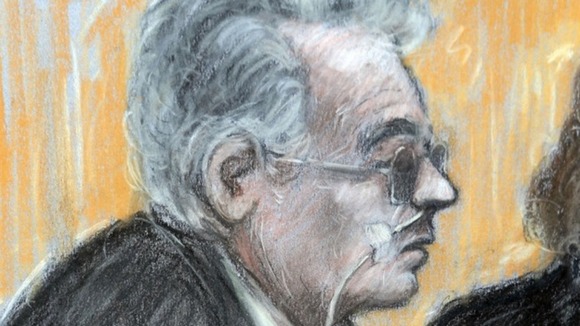 Just after 3.15pm the camera showed him seated beside his solicitor wearing a long black coat, black jacket, a white shirt and a thin black tie. He continued to wear 'aviator' type dark glasses with gold-coloured rims. In spite of the hot weather he also appeared to be wearing a black woollen scarf.
Brady was shown blowing his nose on a paper tissue, before sitting back with his arms folded. Earlier the sound feed from the tribunal room featured a series of four explosive sneezes. It was not possible to determine whether the sneezes came from Brady.
If he were not serving a long prison term, he should be given a "conditional discharge" from hospital, argues his medical witness.
But if he returns to prison, he would almost certainly engage in dispute. Questioned by panel chair Judge Robert Atherton, he observed: "If he engages in conflicts and disputes, that keeps him going," says Grounds. "He finds it rewarding".