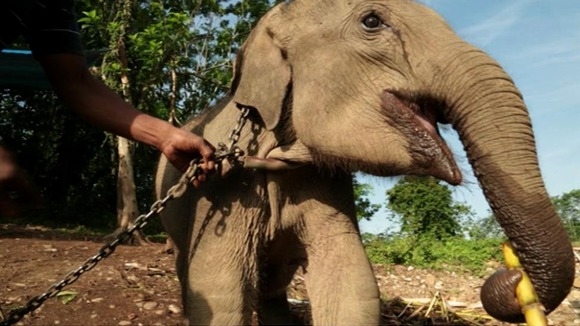 UK elephant conservation charity, Elephant Family, have launched a campaign to rescue baby elephant Raja, captured by villagers in Indonesia a few weeks ago.
Watch: New law could leave Sumatran elephants homeless
Villagers are holding the baby elephant to ransom to ask their government to protect them from the fallout of the startling loss of habitat rapid deforestation is creating. As Jo Cary-Elwes from Elephant Family explains:
"The status of the Sumatran elephant was changed to "critically endangered" at the end of 2011, meaning they are in imminent danger of extinction. 85% of their habitat is located outside of protected areas and is constantly vulnerable to conversion.
"Forest conversion (for things like palm oil and paper pulp) results in conflict with humans: Stressed and starving herds are fleeing from the chainsaws in search of safety and food, as the elephants walk through farmland they destroy people's crops and livelihoods."
Read: Elephants 'forced into villages by deforestation'