'Anti-social network' helps users to avoid their friends
A developer in the US is experimenting with an app to help anti-social people avoid their friends when out and about.
Unlike the location-based app FourSquare, which enables users to see if any of their friends are nearby, the new anti-social network allows them to maintain a safe distance.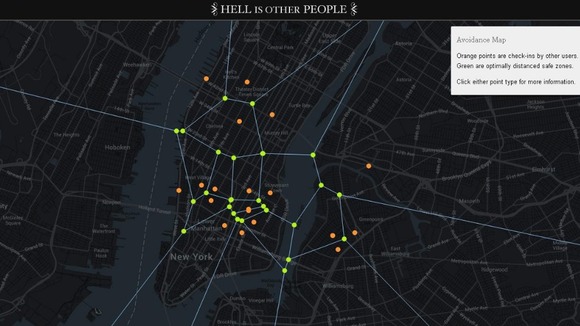 'Hell Is Other People' uses orange dots on a map to plot where friends last logged into FourSquare. Green dots show locations that have been designated as safe anti-social zones.
In a video-taped trial of the service, a user succeeded in avoiding all of his friends, but was disconcerted to find that some of the green spots were located in rivers.
Time magazine reports that it is the latest in a series of reactions against the growing intrusiveness of social media. Similar services include EnemyBook, Hatebook and Snubster.