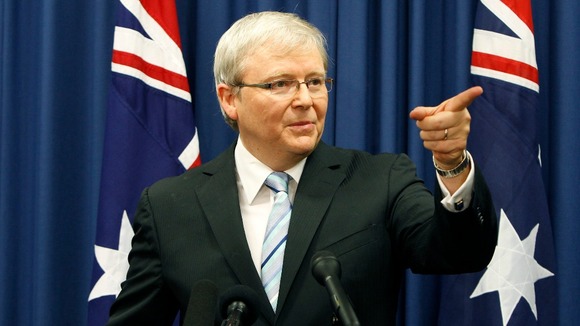 Kevin Rudd previously served as Prime Minister from 2007 to June 24 2010.
He had been popular, but was challenged to a leadership ballot by Julia Gillard, who was then his deputy. He did not contest the ballot when he became aware of Ms Gillard's support, and she became prime minister unopposed.
Rudd supporters have been accused of undermining Ms Gillard's leadership from the start and have been blamed for damaging leaks against her.
Those leaks partially derailed her 2010 election campaign - she led Labour to a narrow victory after forming an unpopular minority government with the support of independents and minor Greens party. Ms Gillard had survived two previous attempts by Mr Rudd to take over.
A Mandarin-speaking former Beijing diplomat turned state government bureaucrat, his leadership style endeared him to voters.
His first act as PM in 2007 was to sign the Kyoto protocol to limit carbon emissions and attempt to limit the impact of climate change. In February 2008 he apologised to Indigenous people for "the profound grief, suffering and loss" caused by party policies of the Australian parliament.