David Cameron told children at a north London school that he took his mother to yesterday's Wimbledon final where Andy Murray beat Novak Djokovic in three sets.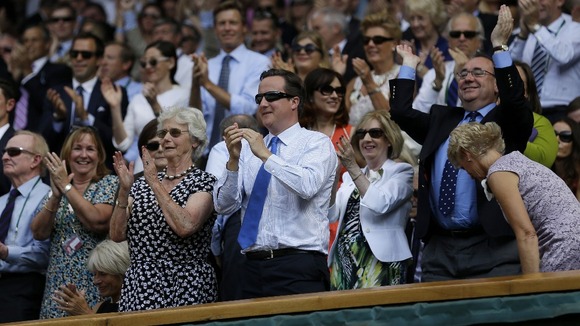 He said: "I wanted to be there to support Andy Murray. I'm a keen tennis fan, it's my favourite sport, I try to play maybe once a fortnight. I very much wanted to be there to cheer him on.
"As Prime Minister you are very lucky to get the chance to go to things like that. It's something I particularly wanted to go to."
He added that he took his mother Mary, who sat next to Wayne Rooney, to the game to thank her for all she had done for him: "They asked, I said I would really like to go so they put me in the Royal Box.
"They decide where they put you. I took my mum, I was given two tickets and my mum is a real tennis fan."
"What the Andy Murray story shows is that if you are really dedicated and if you work really hard and if you set yourself a goal, you can achieve it. That's what Andy Murray did and it was a dream come true for him yesterday," Mr Cameron said.