Four Jack Russell puppies were born just as Andy Murray was making British sporting history on Centre Court.
The appropriately named Murray, Deuce, Ace and Summer were all born during the final set of Andy Murray's win over Novak Djokovic in the Wimbledon final.
The mother of the puppies, Blossom, was found wandering the streets in Southampton on Friday before she was brought to a Blue Cross re-homing centre to give birth.
Murray was born first before Deuce, Ace and Summer followed.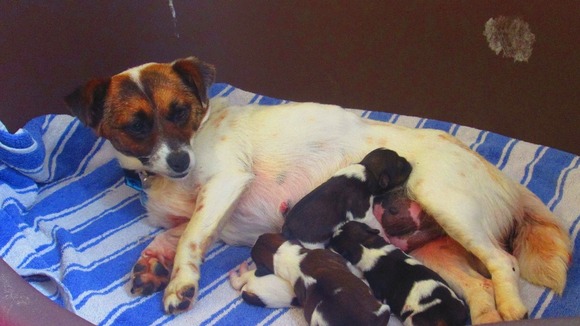 Kirsty Smith, Animal Welfare Assistant at Blue Cross in Southampton, said: "We couldn't believe it when Blossom went into labour during the Wimbledon final. When the first puppy popped out during the final set, it was a no brainer to name him Murray after the new champion."
The charity have said that Blossom and her four new-born puppies are all doing well and will be ready to look for new homes in a few weeks' time.
To find out more about the Blue Cross and other pets which are in need of a new home visit their website.