Malala Yousafzai marked her 16th birthday by delivering a speech at the UN headquarters in New York urging leaders to do more to ensure every child gets the right to free education. She thanked the UN leaders and said she was here to "speak up for the right education of every child".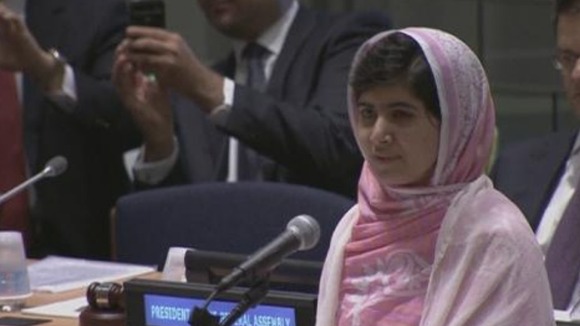 She said: "It is an honour for me to speak again after a long time, being here with such honourable people. I fully support Mr Ban Ki-moon, the Secretary General in his global education first initiative. And the work of the UN special envoy Mr Gordon Brown. I thank them for their leadership.
"They continue to inspire us all into action. Malala Day is not my day. Today is the day of every woman and every boy and every girl who have raised their voice for their rights.
"When I was shot weakness and fear died, and strength and power was born. The Taliban thought the bullet could silence us. But they failed".