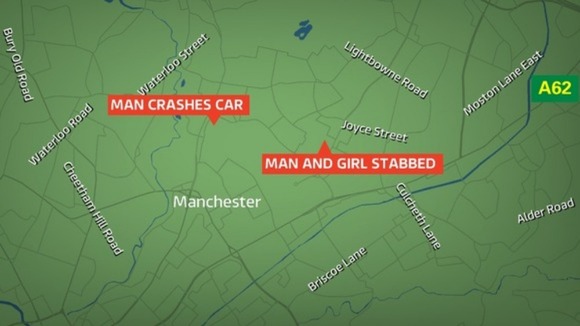 Police were called to a house in Delta Walk, Moston, at 10.20pm on Sunday.
Officers discovered the body of a 41-year-old man who had been stabbed.
A 13-year-old girl suffered serious injuries, also believed to be stab wounds, and was taken to hospital where she is in a critical condition.
Just before 1am, police were called to Watfield Walk in Harpurhey after a man threatened a car owner with a knife and stole a vehicle.
A short time later, the vehicle was seen by police near Rochdale Road. When officers approached, a 34-year-old man drove the car into the side of the Alliance pub.
He was taken to hospital suffering from a stab wound and injuries consistent with a collision but died a short time later.
No one else was injured in the smash.