The leader of Egypt's Muslim Brotherhood was beaten by police during his arrest, and his trial is part of an attempt by the military to eliminate its political foes, a defense lawyer has said.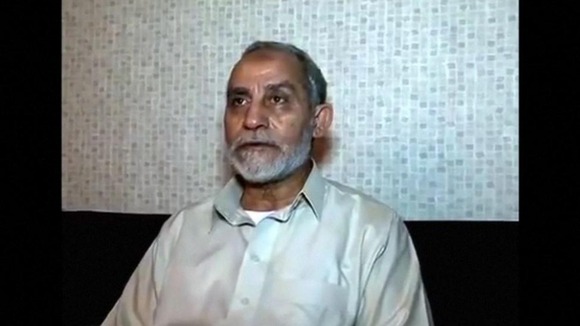 The trial of Mohamed Badie, the Brotherhood's "General Guide", and his two deputies opened on Sunday but was immediately adjourned until October 29 for security reasons.
Lawyer Mohamed Gharib said: "As soon as General Sisi finished his speech on July 3, in which he announced the suspension of the constitution and the appointment of an interim president ... Khairat al-Shater, Saad Katatni, Rashad Bayoumy and Mohammed Mehdi Akef were arrested.
"This shows that the leaders of the bloody military coup want to get rid of their political foes...Badie had his place of residence ... raided and was beaten and insulted with language insulting his mother and father and their honour."