The digital cache of WW1 wills and letters give genealogists and historians a fleeting glimpse into the minds of soldiers on the brink of warfare.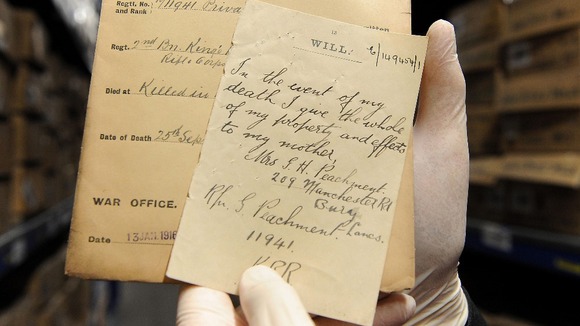 Most of the documents are brief and businesslike, written on purpose-printed cards that were handed out to soldiers in the days before they were deployed.
One such will, by George Peachment, reads simply: "In the event of my death I give the whole of my property and effects to my mother".
Some of the soldiers included personal letters, one of which reads: "I dare say this will be the last letter you will receive from me until the war is over, as I am prepared to move to the front at any moment."
An anonymous government official later recorded that the writer,Pte Joseph Witchburn of 2nd Battalion The Durham Light Infantry, died of his wounds on 14 September 1914.