The parbuckling process designed to right the Costa Concordia is being run from a floating control room just a few meters from the bow of the ship.
Parbuckling is basically a technical term for rotating a sunken vessel back into a vertical position.
In this case the process is being run on board the barge "Polluce" by Captain Nick Sloane, the senior salvage master, along with a team of specialists.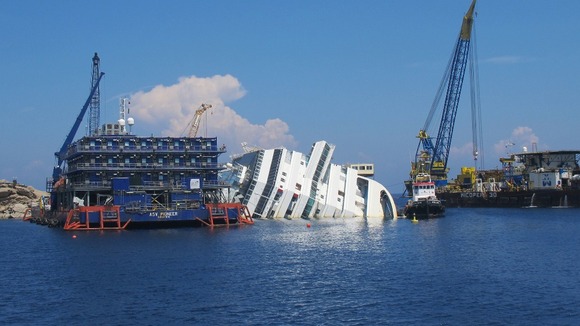 Because of the danger of being near the ship as the work takes place, all the commands they issue are computerised and sent between the Polluce and the Costa via two "umbilicals" - cables carrying messages between the barge and the ship.
This is how the pull on the cables will be gradually increased in order to move the vessel towards an upright position.
As the Costa reaches a rotation of 20 degrees huge metal tanks, known as sponsons, welded to the side will reach sea level and begin filling with water.
The weight of that water will pull the the ship down so that once it's fully righted it will rest on a false seabed built 30m below the water level.